Part three of a series marking the 15th anniversary of the passage of the Defense of Marriage Act
The day before the House of Representatives passed the Defense of Marriage Act in 1996, the Senate held its sole hearing on the legislation. Sen. Orrin Hatch (R-Utah) opened the July 11, 1996, hearing by proclaiming, "Congress can and, when necessary, must ensure that no one state can dictate how every other state must treat a subject."
The state was Hawaii, and the subject was marriages entered into by couples of the same sex. DOMA, introduced in the Senate by Sen. Don Nickles (R-Okla.), with only presidential candidate and then-Sen. Majority Leader Bob Dole (R-Kan.) as a co-sponsor, on May 8, 1996, was aimed at preventing other states from having to recognize such marriages should Hawaii or another state allow them. The bill also would create a federal definition of "marriage" limited to those between one man and one woman. Hatch made clear in his opening that he believed — and that the Clinton administration believed — DOMA was constitutional.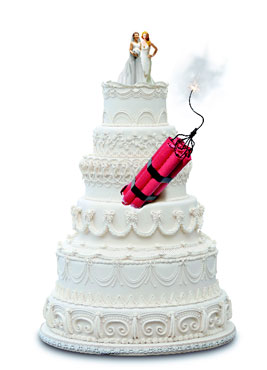 "The last question is whether this act is a legitimate exercise of Congress's power. To me, the answer again is yes," he said. "But that is not just my view. The Clinton administration also believes that the Defense of Marriage Act is legitimate and lawful."
Though the Clinton administration had announced that President Clinton would sign the bill if passed by Congress, Sen. Edward Kennedy (D-Mass.) sang a different tune. "It is no secret that I oppose this legislation," Kennedy said, leading off the hearing for the Democrats. "I regard it as a thinly disguised example of intolerance. But regardless of anyone's views on same-sex marriage, this bill is a flatly unconstitutional exercise of congressional authority."
After discounting the bill's necessity to address interstate recognition of marriage and dismissing what he called the bill's "unprecedented assertion of federal authority," he concluded, "What is left of this bill is its real goal — it is a mean-spirited form of legislative gay-bashing designed to inflame the public four months before the November election."
It was here that Kennedy also raised an issue that would become a key part of the discussion and strategy of advancing lesbian, gay and bisexual equality over the course of the next four months — and lesbian, gay, bisexual and transgender equality in the 15 years since.
"But some good can still come out of this bad bill. If our Republican colleagues insist on bringing it up before the Senate, then Sen. [Jim] Jeffords (R-Vt.), Sen. [Joseph] Lieberman (D-Conn.), I, and others intend to offer our Employment Non-Discrimination Act as an amendment to this bill in order to prohibit job discrimination based on sexual orientation."
Over the two months following the House passage of the bill, the strategy became, at least for the Human Rights Campaign, a dual focus of both opposing DOMA and supporting and lobbying for the ENDA vote.
As Winnie Stachelberg, who was the legislative director at HRC at the time, puts it, "There was no way we were going to defeat the Defense of Marriage Act. So, what can you get out of it? What positive? Where could you get a victory, or where could you begin setting up a victory, or where could you start changing the story to tell a different story?"
Talking about the 1996 Democratic National Convention, which took place in Chicago Aug. 26 to 29, 1996, Stachelberg said that HRC "knew … that it was going to be an ENDA vote and a DOMA vote.
"I know that all of the lobbyists for the Human Rights Campaign who were at the convention, our job — priority number one — was when you saw a senator, your first, second and third thing that you were talking to him or her about was the Employment Non-Discrimination Act and DOMA."
Noting that ENDA was only first introduced in the summer of 1994, she said that a lot of the work at the convention involved educating members about what ENDA was. "That was what you talked about," she says, "and I remember certain senators were very difficult to ascertain their position."
It was that decision to split attention between fighting against DOMA and fighting for ENDA that still frustrates Freedom to Marry Executive Director Evan Wolfson, who was an attorney for Lambda Legal working on the Hawaii marriage case at the time. Saying that the ENDA vote had the ultimate effect of "further greasing the skids for this anti-gay attack," Wolfson says, "I think it was, from HRC's point of view, always much more about an ENDA-advancement step than it was about a true strategy to block DOMA. And I felt strongly that we ought to be fighting and working hard to block what was the most sweeping and radical assault on gay people proposed in Congress up until that point. So, I was not happy with the way the strategy was suggested, put forward and ultimately rolled out."
For Daniel Zingale, who was the political director at HRC at the time, he doesn't see that as an accurate reading of the political dynamic, noting, "Remember, so many Democrats at the time had voted against lifting the ban [on gays in the military]. I think only, in the end, we only got 33 votes for lifting the ban — and there was no ENDA cover. That was just what they did. So, to imagine that people who were afraid to vote to lift the ban on gays in the military would have been ready to vote for gay marriage is, I think, probably to misunderstand the times. They weren't going to do it."
But, to add in discussion of ENDA, Zingale says, was an attempt — that he sees as having been successful — to expand the scope of the debate.
"I think Sen. Kennedy deserves a lot of credit for seeing the strategic wisdom in terms of our bigger-picture civil rights battle that we were engaged in and his insistence that we not allow our adversaries to narrow the parameters of the debate," he says. "For us to succeed in the long term around marriage, Americans had to be made aware of the fact that it was still legal to fire lesbian and gay people from their jobs in most parts of the country. So, we thought of ENDA as a vehicle for raising awareness about discrimination around the country."
When the Senate returned in September, though, Senate Majority Leader Trent Lott (R-Miss.) — who took over the top spot in June 1996 when Dole resigned from the Senate to focus on his presidential campaign — and Nickles spent several days in a disagreement with Senate Minority Leader Tom Daschle (D-S.D.) and Kennedy over the way that the Senate would be considering DOMA — and if and how it would be considering ENDA.
Initially, on Sept. 3, Lott announced that four amendments to DOMA were "provided for" on each side of the bill. Later in the day, however, Nickles took to the floor saying that although he and others had submitted amendments in conjunction with the agreement made before the August recess, "It is our hope there will be no amendments adopted to the Defense of Marriage Act."
The next day, Lott announced that they would not be proceeding with the pre-recess agreement to allow the amendments offered. Although Daschle said it remained his hope that some amendments could be offered, he also said the Democrats were not attempting a delay tactic. "It is not our desire to preclude a vote, or to hold up a vote on the Defense of Marriage Act."
By Sept. 5, tensions were raised further, and — though he said he continued to hold out hope that agreement would be reached for a way to proceed on Tuesday, Sept. 10 — Lott filed a cloture motion on behalf of himself and 16 other Republican senators. Daschle shot back, saying again, "I just wanted to take a moment to explain that it is not our desire necessarily to hold up this piece of legislation." This time, though, he added, "There is support on our side as well."
By the end of the day, agreement was reached and Lott announced that the Senate would consider DOMA on Tuesday, Sept. 10, with 45 minutes of debate on each side and then take up "the Kennedy bill" — ENDA — with 30 minutes of debate on each side immediately following the DOMA vote.
On Monday, Sept. 9, it was announced that there would be a full three hours of debate on DOMA the next day before the vote would be held. Sen. Jesse Helms (R-N.C.) took to the floor on Monday, setting the tone by telling to the chamber that DOMA "will safeguard the sacred institutions of marriage and the family from those who seek to destroy them and who are willing to tear apart America's moral fabric in the process."
Sen. Barbara Boxer (D-Calif.), who earlier had tried to stop "Don't Ask, Don't Tell" with the Senate amendment to which Zingale referred, countered Helms, saying, "Scapegoating is ugly. History has seen it too many times. You know that and I know that. Groups of people who are different are identified. It becomes 'we' versus 'them.' Their identity as individuals is lost and they become faceless. Special rules are written for them. They are singled out as a group. Read the history books, my colleagues. You will find it there. We are all Americans in this country, regardless of our differences."
Yet, on Tuesday, the debate over DOMA took a different direction. Lott opened the debate a little before 10 a.m., saying, "The Defense of Marriage Act is not an attack upon anyone. It is, rather, a response to an attack upon the institution of marriage itself."
Although Kennedy led the debate for the bill's opponents and voiced his opposition to DOMA and support for the coming vote on ENDA, the second Democratic senator to speak was Sen. Paul Wellstone (D-Minn.), who spoke only about his support for ENDA and did not mention DOMA. Hours later, Wellstone would be among the majority of the Democratic caucus in voting for DOMA.
Later, Sen. Carol Moseley-Braun (D-Ill.) noted, "I ask everyone listening to this debate to note that the federal government has yet to issue a marriage license. That is not within our purview. It is not something the federal government does."
Yet, a few hours later, Boxer, Kennedy and Moseley-Braun were joined by only 11 of their Democratic colleagues in voting against the bill. They were Sens. Daniel Akaka (D-Hawaii), Russ Feingold (D-Wisc.), Dianne Feinstein (D-Calif.), Dan Inouye (D-Hawaii), Bob Kerrey (D-Neb.), John Kerry (D-Mass.), Daniel Patrick Moynihan (D-N.Y.), Claiborne Pell (D-R.I.), Chuck Robb (D-Va.), Paul Simon (D-Ill.) and Rob Wyden (D-Ore.). Eighty-four senators — a majority of the Democratic senators and all the Republicans — voted for the bill.
Wolfson still thinks that more could have been done to stop DOMA but says that "once ENDA got folded into the mix," he saw "there was at least as much desire on the part of some on our side to engineer some ENDA action as there was to focus 100 percent on blocking DOMA. And I think that was a mistake."
Zingale doesn't necessarily disagree about the mixed focus, but doesn't see it as a mistake, saying, "Everyone involved — and there were a lot of different opinions about timing and strategy — I think all the LGBT advocates I was dealing with appreciated the fact that there was an opportunity … around ENDA that we couldn't be cavalier about. And we had to be mindful of the fact that there were a lot of LGBT Americans living in states where marriage was a pretty far-off dream, but the daily reality was that they could be and were being fired from their jobs. So, I think of it as a strategic thing to do – but also the right thing to do."
Regardless of the aims, hours after DOMA passed the Senate, ENDA failed to pass the Senate — by one vote. Richard Socarides, then the White House gay and lesbian liaison, described the afternoon, saying that Vice President Al Gore was in Pennsylvania but prepared to come back to cast a tie-breaking vote if needed and spent the afternoon being connected by Socarides with Democratic senators whose vote on the bill was still uncertain. But, when the vote came, they fell one short.
With support from seven Republican senators and opposition from five Democrats, the lobbying eventually reached its end, and Socarides said Kennedy declared the vote was lost. The vote that could have tied it up, Sen. David Pryor (D-Ark.), had been called back to his home state due to a medical situation involving his son. The final vote on ENDA was 49-50.
By sunset on Sept. 10, 1996, ENDA, despite coming closer to passage than many had expected just weeks earlier, had lost its vote. And DOMA, passed without amendment, was days away from heading to President Clinton's desk for his signature.
This is the third of a series marking the 15th anniversary of the passage of the Defense of Marriage Act. The aim of the series is to present an in-depth examination of the circumstances, consideration and passage of the 1996 federal marriage law.
Part 1: Domestic Disturbance
Before DOMA, there was another debate over marriage – within the gay and lesbian community
Part 2: Marriage Wars
In 1996, DOMA went from being introduced to being passed by the House – and given the OK of the Clinton administration – in less than 10 weeks
Part 3: Double Defeat
In 1996, ENDA was hoped to help ease the pain of DOMA, but instead fell by one vote in a Senate focused on a "thinly disguised example of intolerance"
Part 4: Becoming Law
On Sept. 21, 1996, President Clinton signed DOMA into law – a turning point for the marriage debate that left a mark of discrimination still on the books