After Congress passed and the president signed the Don't Ask, Don't Tell Repeal Act in December 2010, all the action that Congress needed to take to end the military ban was done.
However, a month earlier Republicans had succeeded in taking back the House in the midterm elections. As such, Republicans who overwhelmingly had opposed repeal would be controlling the House – and the House Armed Services Committee (HASC). With that power, the House has had more to say about DADT repeal this year than might have been otherwise expected.
Multiple hearings. Legislation and amendments aimed at altering, stalling or stopping repeal. And, finally, one last-ditch effort at asking the defense secretary to "take immediate action to delay the implementation of repeal."
Though none of their actions stopped repeal from taking effect on Sept. 20, they did take time and provide a megaphone for anti-repeal advocates who were pushing back against the repeal passage whenever possible, from efforts to expand the certification that was required under the act to an attempt to turn discussion of same-sex couples marrying on military bases into a reaffirmation of the Defense of Marriage Act.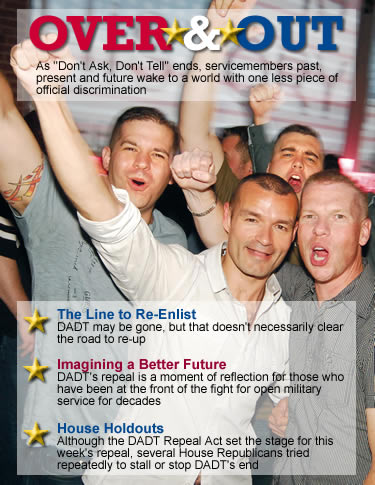 Rep. Duncan Hunter (R-Calif.), one of the leading House opponents of repeal, sponsored multiple pieces of legislation taking aim at repeal, including an amendment passed by the House to expand the required certification process – which already included the president, defense secretary and chairman of the Joint Chiefs of Staff – to include the sign-off of the service branch chiefs of the Army, Navy, Marine Corps and Air Force.
Of course, the Senate has not yet acted on the legislation – the National Defense Authorization Act – and so the amendment is moot.
Others, including Rep. Vicky Hartzler (R-Mo.), spent time pushing back against a Navy memorandum stating that same-sex couples could marry on bases. And on Sept. 12, HASC Chairman Buck McKeon (R-Calif.) and Military Personnel Subcommittee Chairman Joe Wilson (R-S.C.) asked Defense Secretary Leon Panetta to hold off on implementing repeal.
Despite these House holdouts, though, repeal took effect on Sept. 20, as planned.