During most days, Dr. Joel Ang's primary concern is managing his patients' care, specializing in HIV and family care at Q Street MDs. But sutures aren't the only strings this gay doctor knows his way around.
Ang is master of the violin during the off-hours.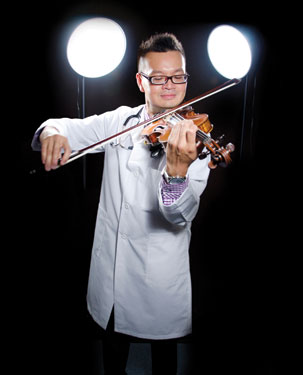 Dr. Joel Ang photographed Thursday, Sept. 1, 2011
(Photo by Julian Vankim)
"The public school system in Raleigh at that time supplied the violin," Ang remembers, explaining that a no-cost option certainly appealed to his immigrant family, newly relocated in North Carolina from the Philippines.
That was roughly 30 years ago, and those decades have provided Ang ample time to become an expert violinist. Locals often have the opportunity to judge Ang's musical mastery for themselves simply by catching a concert of the Washington Metropolitan Philharmonic Association. An entirely new opportunity, however, presents itself Sunday, Sept. 11, when Ang performs with the World Doctors Orchestra in a concert marking the 10th anniversary of the 9/11 attacks. Certainly, if ever there was an orchestra with special insight into healing wounds, the World Doctors Orchestra must be it.
"We usually do a spring and a fall concert," Ang explains of the orchestra he joined when it formed in Germany in 2007. This will be the group's second concert in the U.S. and its first in the D.C. area. "We were looking for dates and I just thought that because this was the 10th anniversary it would be a great time to actually perform a concert in D.C., close to where things happened."
With the rest of the orchestra signing off on his suggestion, Ang is responsible for executing the logistics on the ground, preparing for an array of international visitors – not to mention the four months of private rehearsal asked of all the classical clinicians ahead of the concert.
"People are talking about a baseball game," he says of possible diversions for the out-of-towners. "A lot of the Baltimore Symphony players of have stepped up and are going to be helping us with coaching sessions, which is great, and we're going to be seeing a concert of the Baltimore Symphony. I'm planning an outing to a restaurant for 150 people – I'll have to figure that one out."
Also on the agenda is a tentative tour of Whitman-Walker Health, which the WDO has named as recipient of all proceeds of this 9/11 concert.
"I have friends there, colleagues there, patients that see them for drug assistance," says Ang. "Being an HIV doctor, I have a lot of patients who have been there. We're going to try to tour Whitman-Walker because a lot of the physicians really want to see that the money's going to a good cause. I thought it was really important, especially with the high rate of HIV. For me, that's a personal thing, to be able to do that for Whitman-Walker."
The selections to be performed at the Sept. 11 concert are also somewhat personal to Ang – as well as the rest of the orchestra, considering the months they've been rehearsing them. Ang seems very confident that the orchestra's concert will respect the somber nature of the anniversary, while also helping to heal the psychological scars that linger. As he describes the playlist, it recognizes the pain and horror, then rises above.
"It will be meditative," Ang promises. "We're playing Mahler's 'The Resurrection.' It's kind of almost spiritual to me. There's so much emotion in his music. It's the greatest and the worst of emotions all in one piece. It's really kind of amazing.
"We're also playing Mozart," he adds. "It's a good counterbalance."
The World Doctors Orchestra performs its seventh benefit concert Sunday, Sept. 11, at 7 p.m., Music Center at Strathmore, North Bethesda. Tickets are $25 to $75, available by calling 301-581-5100 or online at strathmore.org. For more information about World Doctors Orchestra, visit world-doctors-orchestra.org.