There may be important things missing in two mystery-laden musicals onstage now at Signature Theatre: a sleuth's youthful innocence, a kidnapped girl, a demonic horseman's head. Talent, however, is everywhere you turn.
In the hit-or-miss business of new works, The Boy Detective Fails and The Hollow – running in repertory as part of Signature's American Musical Voices Project – have emerged as a hit-or-hit proposition: darkly delightful shows that speak to ominous forces in the world, and do so with well-crafted voices.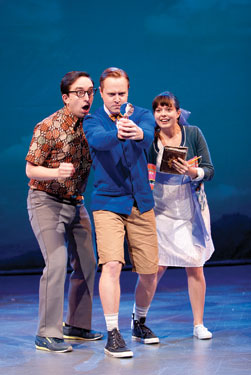 The Boy Detective Fails
(Photo by Scott Suchman)
In adapting his 2006 novel The Boy Detective Fails for the stage with composer-lyricist Adam Gwon, Joe Meno has retraced steps along literary terrain that the likes of the Hardy Boys and Encyclopedia Brown – flashlights and magnifying glasses at the ready – have taken for years. But Meno diverges into quirky, troubling territory with his hero, Billy Argo (Stephen Gregory Smith), whose triumphant childhood and teenage crime-solving career screeches to a halt when his little sister and sleuthing partner, Caroline (Margo Seibert), commits suicide, sending Billy into a deep depression that leads to his own suicide attempt.
After a decade in a mental hospital, Billy, now 30, is faced with rebuilding a life in a world that no longer offers clear clues and tidy answers. Yet he's convinced that there are questions he still must pursue: Why did Caroline kill herself, and what did she find out about a long-missing kidnap victim that may have driven her to despair?
Director Joe Calarco keeps the action brisk and the melancholy-macabre tone consistent, providing a compelling foundation for an array of skillful performances: Smith's and Seibert's emotionally wounded siblings; Thomas Adrian Simpson's doddering take on the aging arch villain, Professor Von Golum; Harry A. Winter as a smarmy, suspicious telemarketer; and Anika Larsen as Penny Maple, a kleptomaniacal young widow who ultimately steals Billy's heart.
Gwon's perky score feels brighter in places than Meno's plot suggests, but it always sounds great, supported by Andy Einhorn's lovely orchestrations. And there are at least two strong potential standalone numbers, both Billy-Penny duets: "I Like (The Secret Song)," which advances their budding romance; and "Little Mysteries," which gives Billy perspective on what's truly at stake in his search for the truth.
The Hollow, too, starts on well-traveled ground, Washington Irving's classic short story The Legend of Sleepy Hollow, from which book writer Hunter Foster and composer-lyricist Matt Conner have extracted bold, broad dramatic and musical gestures.
Sam Ludwig, whose chilling Tobias in Signature's last Sweeney Todd still inspires a shiver, is a dashing Ichabod Crane, a Boston schoolmaster transplanted to an eerie, insular Dutch village in post-Revolutionary New York state. His bemusement over the repressive enclave – where the Bible dominates the classroom, and his copy of Gulliver's Travels is scandalous suggested reading – gives way to grave concern as fear grips the village in the wake of disappearances attributed to the Headless Horseman, believed to be the ghost of a Hessian soldier beheaded by a cannonball.
As conditions deteriorate, Ichabod falls in love with a hothouse flower of a young woman, Katrina Van Tassel (Whitney Bashor), whose brutish fiance, Brom Von Brunt (Evan Casey), is the son of the religious leader (Sherri L. Edelen) who has blamed the village's supernatural misfortunes on Ichabod and his disruptive teachings.
Conner's melodies, rendered in lush orchestrations by Michael Morris, resonate with a gut-level impact that musical theater fans of the Les Miz variety will salivate over. The score has weaker moments when it strays too close to familiar hooks – a little too much Cat Stevens here, a little too much Sondheim "Sunday" there – but it stays mostly on solid original ground. And the big voices in the cast have a ball with the big sound – too big, in fact, at times when either the singers or the amplification need to back off a bit.
THE BOY DETECTIVE FAILS




THE HOLLOW




To Oct. 16
Signature Theatre
4200 Campbell Ave.
Arlington
$29-$86
703-573-SEAT
signature-theatre.org
Foster and Conner wisely confine the proceedings to a compact 90 minutes; much more could easily ride into overkill territory. And director Matthew Gardiner punctuates the show with interesting flourishes such as a sequence with books that shoot out flames, illustrating the conservative crackdown on intellectualism in the village.
If you had to choose between The Boy Detective Fails and The Hollow, it's the latter that wins by a head, so to speak. But by all means, if you can see both, do. Amid these mysteries, this is no time for musical lovers to be among the missing.