"I go every year and do lots of shopping. It's one of my favorite events," says Monica Jeffries Hazangeles of Stathmore's Museum Shop Around. And even though Hazangeles is a longtime employee of Strathmore, she's far from alone in her zeal for early holiday shopping at Strathmore.
"Months before," says Hazangeles, "I have neighbors and friends and colleagues from other organizations ask me, 'When are the museum shops coming?' It's just a wonderful community tradition."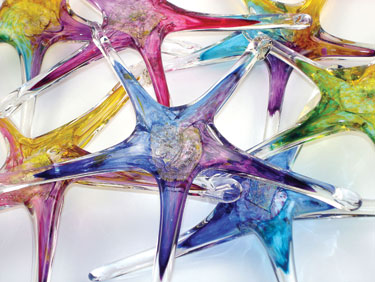 Strathmore Museum Shop
In fact, Strathmore's annual Museum Shop Around is one of the best and certainly most convenient places in town for finding unique, arty gifts. This weekend, 18 museums will be represented at the event selling memorabilia and merchandise — everything from beautiful scarves and sweaters from the Textile Museum, handcrafted glass and wood items from The Shop at Strathmore, plants and seedlings from the Washington National Cathedral's Herb Cottage, and architecturally minded toys and trinkets from the National Building Museum.
Each museum is given its own space, often its own room, in Strathmore's historic mansion. That's enough room for most shops to display as much as 40 percent of their normal store inventory, according to Hazangeles, Strathmore's president. And it's definitely enough to look through that patrons can easily make it a day, or even a days-long outing — and then take in a concert at the complex's Music Center afterward.
"Many of our 'super-shoppers' come more than one day," says Hazangeles. Strathmore charges a $9 admission fee once during the course of four days. The fee raises "tens of thousands of dollars" for Strathmore's programming. The mansion also offers a café with food and drink available throughout the event, including hot apple cider "to get everybody in the holiday spirit."
And beating the holiday shopping rush will raise your spirits, too.
Museum Shop Around runs Thursday, Nov. 10, through Sunday, Nov. 13, starting at 10 a.m. each day. The Mansion at Strathmore, 5301 Tuckerman Lane, North Bethesda. Tickets are $9. Call 301-581-5100 or visit strathmore.org.