"My grandmother was a Cotton Club showgirl and knew Josephine Baker," Maurice Hines says, referring to the famous Prohibition-era Harlem nightclub. "My brother Gregory and I learned a lot about her early life in Harlem [through their grandmother]."
So when Alexandria's Metro Stage approached Hines to choreograph and direct a new musical about Baker, he couldn't pass it up. The resulting show, Josephine Tonight, "is really about her early life, which is very interesting. It shows what a gigantic personality she became from this very innocent kind of waif." (See review, page 53.) The American Baker would go on to become a world-famous entertainer, a sexually provocative glamour-puss who repatriated to France and even spied on Nazi sympathizers for the French Resistance.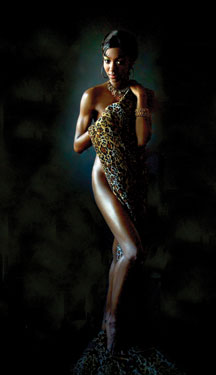 Josephine Tonight
(Photo by James Alexander)
Hines, of course, is a show business legend in his own right. He got his start as a tap-dancer, repeatedly performing as a child with his brother Gregory (who died in 2003) on The Tonight Show with Johnny Carson. Since then the Tony-nominated, openly gay star has chiefly made his mark by acting in, choreographing or directing — often all three — theater productions that pay tribute to pioneering African-American entertainers, from Duke Ellington (Sophisticated Ladies) to Louis Armstrong (Satchmo). His choreography for Cool Papa's Party, which celebrates Sammy Davis Jr., earned him a Helen Hayes Award when Metro Stage premiered it in 2009.
Among many other projects, Hines is currently developing with D.C.'s Arena Stage what he calls a "performance version of [Bravo's] Inside The Actors Studio." Hines plans to host this national television show to be set in Arena's "spectacular new building."
Several theater producers are already talking about transporting Josephine Tonight to New York. The show features original, "beautiful" music written by the late Wally Harper, who was Barbara Cook's longtime arranger and accompanist, and a "very funny" book – plus lyrics – by Sherman Yellen (TV's An Early Frost, Broadway's The Rothschilds).
Hines praises the cast, led by Zurin Villanueva as Josephine. "These actors are so versatile, so wonderful," he exults. "A gift from the man above." '
Josephine Tonight plays to March 18 at MetroStage, 1201 North Royal St., Alexandria. Tickets are $45 to $50. Call 800-494-8497 or visit metrostage.org.