Our community's progress with marriage equality has been impressive, but it's not enough for Toshi Reagon.
"What about the gay people that still don't want to get married? Can we get some rights too?"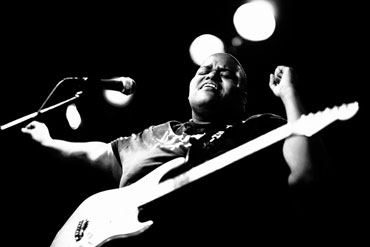 Toshi
(Photo by Bernie DeChant)
The lesbian folk musician is only half joking.
"We have to be constantly vigilant [for all LGBT rights]," she says. "We can't act like once we get gay marriage…we're satisfied." It's a singular issue that doesn't address issues about education or the struggles of the transgender community, she explains.
The 48-year-old knows what it means to vigilantly push for progress. A child of the civil rights movement, Reagon was born in Georgia to Bernice Reagon, a member of The Freedom Singers and founder of a cappella ensemble Sweet Honey In The Rock. Toshi was even named after the wife of her godfather, folk legend Pete Seeger.
"I come from a family of revolutionaries," Reagon explains. "Once you are fighting for civil rights and justice, it makes you more open towards the different kinds of people that are in the world." As a result, Reagon, who jokes, "I never was in, I was always out," never felt particular resistance being openly gay. "I'm not just gay," she says, "but I'm black, and I'm bald-headed, and I'm big, and I'm masculine. I'm a whole lot of things. I've felt very blessed to be in communities that support me to be myself."
Reagon has worked with her mother many times over her career, including on several operas. She's also collaborated with other folk and rock artists, from Meshell Ndegeocello to Lizz Wright.
Reagon makes her home in Brooklyn, N.Y., with a partner of 10 years. "She told me when we met, 'I'm gay and I'm not getting married. I don't want to be regular.'" One day the couple will throw a big commitment party and invite family and friends. "But," insists Reagon, "we're not getting married." '
Toshi Reagon performs Tuesday, Feb. 28, at 5:30 p.m. at 'Clarice Smith Performing Arts Center's Gildenhorn Recital Hall, University of Maryland, College Park. Tickets are free. Call 301-405-ARTS or visit claricesmithcenter.umd.edu.