"She was certain that I was gay, because I was in New York to study musical theater and I was playing piano [at a gay bar] on Christopher Street," says Brendan Milburn. But Milburn convinced her otherwise, and eventually won over his now-wife Valerie Vigoda, a violinist. The two started a pop band with drummer Gene Lewin in the mid-1990s, which they named GrooveLily to epitomize the trio's early sound – "groovy yet pretty, like a dancing flower," as Milburn puts it.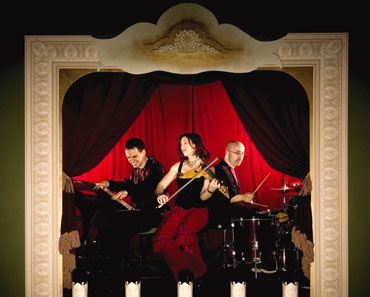 Groovelily
(Photo by Jon Spaihts)
GrooveLily was a fairly typical pop/rock band until about a decade ago, when the trio were starting to burn out. Milburn got the idea to put his musical theater degree to use – inspired, of all things, by the Trans-Siberian Orchestra, whose "heavy metal Christmas concerts have a threadbare story that goes through them." With Rachel Sheinkin (The 25th Annual Putnam County Spelling Bee), Milburn and his band created Striking 12, a musical that follows Hans Christian Andersen's story The Little Match Girl. GrooveLily performed a run of the show off-Broadway in 2006.
More recently, GrooveLily and Sheinkin teamed up for Sleeping Beauty Wakes, commissioned by L.A.'s Deaf West Theatre Company. The show imagines what might happen if Sleeping Beauty were to wake up in a sleep-disorder clinic. In short, Milburn says, "all hell breaks lose – [but] it's a really fun story."
GrooveLily will relate the story and play the "greatest hits" from it at The Barns at Wolf Trap next weekend, based on a soundtrack the band has recorded. Several producers are looking at taking the musical to Broadway. In the meantime, TheatreWorks of Silicon Valley will premiere another GrooveLily musical, Wheelhouse, this one a memoir of sorts about the band.
These days, Milburn and Vigoda spend their time raising a child in Glendale, Calif., and writing for the Walt Disney Company — most notably Disney Cruise Line's hour-long Toy Story: The Musical. That is, when the couple isn't touring with the New Jersey-based Lewin as GrooveLily.
"[Nowadays] we can just do the fun part of being in a band," says Milburn. "And get together when it makes sense and have a blast doing it."
GrooveLily performs Friday, March 16, at 8 p.m. 'The Barns at Wolf Trap, 1645 Trap Road, Vienna. Tickets are $35. Call 703-255-1900 or visit wolftrap.org.