"When I do events or concerts, most of the fans that stay afterwards are female," says Anthony Rapp. "It's not like it's a secret."
Nope, it's no secret at all — Anthony Rapp has been out since before Rent – approximately two decades now. For much of that time, he was nearly alone as an openly gay leading man, on Broadway or anywhere – this was before an openly gay Neil Patrick Harris, or an openly gay Sean Hayes. Not to mention openly gay Ricky Martin.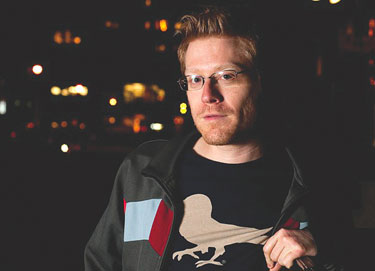 Anthony Rapp
"I'm just encouraged by the fact that more and more people are taking that leap [and coming out]," he says. "There's so little downside it seems to me anymore." In no small measure, the fact that Rapp still has what you might call female groupies he considers testament to the fact that, "If you have fans, people who support your work will follow you no matter what."
Rapp, who grew up in suburban Chicago with his older brother, the filmmaker Adam Rapp, got started in acting early. He starred in small roles as a teenager on Broadway (Six Degrees of Separation) and on film (Adventures In Babysitting). But immediately prior to his Rent tryout in 1994, Rapp was struggling to make ends meet, working at a New York Starbucks.
"I had no idea [Rent] could have potentially mainstream success," Rapp says about when he first started working on the show. "Looking back, it makes some sense that it became such a mainstream hit. There was a vacuum for that kind of material, that kind of experience, on Broadway.
"But it was just sort of out of the blue," he continues. "I never had any idea of what would come, that it would absolutely transform my life."
Rapp essentially has paid the mortgage a couple times over thanks to Rent, a show he's continued to mine: After the original Broadway run, Rapp reprised the role of Mark Cohen for the original 1998 London production of the show, and then again for the 2005 film. Rapp and Adam Pascal, the original Roger Davis, Cohen's roommate, later returned to the fold for a couple months near the end of the original Broadway run, the ninth longest in Broadway history. The two then set out on a national tour of the show in 2009.