You often hear about pop artists and bands partying hard, being reckless with life and drugs. But you rarely see it.
"I didn't really want to tell the whole world about the way it was and then what happened," says Patty Schemel, former lesbian drummer of grunge band Hole. "I never thought that would go anywhere except for my living room."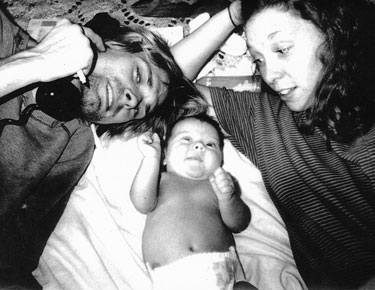 Hit So Hard
Schemel took 40 hours of footage of the band led by Courtney Love during its heyday in the mid- to late-1990s. Included in the mix were scenes of band members clearly drunk or high on various illegal substances, from heroin to crystal meth. One Hole bassist, Kristen Pfaff, even died of an overdose. Footage of both Pfaff and Love's late husband, Kurt Cobain of Nirvana, are included in the powerful documentary Hit So Hard, which filmmaker David Ebersole built around Schemel's footage.
"He's a friend and I trusted that he wouldn't exploit [me]," says Schemel. Ebersole worked to create the documentary with his husband, producer Todd Hughes, as well as Schemel's wife, producer Christina Soletti. Soletti's involvement "made me feel comfortable with the project as well," says Schemel, who agreed with Ebersole that the documentary needed to be an honest portrayal, showing the bad with the good. "I survived where a lot of my friends didn't," she says. "The way that I live today is to share those things that I went through that got me to where I am."
The 45-year-old Schemel is now more than six years sober after an addiction that eventually left her homeless. She lives with her wife and 19-month-old daughter in Los Angeles's hipster Silver Lake neighborhood, where she has her own Dog Rocker Dog Care business. But she's also still a drummer, performing in the all-queer band Cold and Lovely.
Hole even regrouped for a couple shows to promote Hit So Hard. Schemel acknowledges that as frank a depiction as Hit So Hard is, she left out plenty of additional shocking footage.
"I was discerning as to what we put in there."
Hit So Hard opens Friday, May 11, at the West End Cinema, 2301 M St. NW. Call 202-419-FILM or visit westendcinema.com.