Of the perks that come with increasing fame, lesbian folk rocker Brandi Carlile is most honored by the aspiring musicians who seek out her counsel. "I just think, man, if I were to have had a chance to talk to the Indigo Girls when I was 14, I would have been so excited," Carlile says.
The 31-year-old Carlile still sometimes feels like a 14-year-old fan of Amy Ray and Emily Saliers's hitmaking duo, even though she's performed and recorded with the Girls regularly over the past half-decade.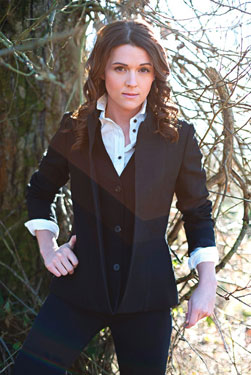 Brandi Bear
"It doesn't matter how many times Emily spends a night at my house, or how many trips I go on with Amy and how close we all are," Carlile says. "Every once and a while, I'll be standing onstage playing guitar with Emily, and I'll have a total freak out. I have to take my hands off the guitar and stop 'cause I get so nervous."
Carlile, who grew up in and still lives outside of Seattle, is now touring to promote her fourth studio album, the gratifying and personal Bear Creek. She shares the bill with Josh Ritter for a concert next week at Wolf Trap, "one of my favorite venues in the world," she says.
Carlile hopes to start raising a family soon with her fiancé, whom she met last summer. And she particularly enjoys the many charitable activities she's taken on, mostly focused on health and environmental causes, through her Looking Out Foundation. A dollar from every Wolf Trap ticket sale goes to support the foundation. Even as a 14-year-old budding musician, Carlile says she dreamt of doing good as a side benefit of making music.
"As a kid I thought to myself," she recalls, "'If I ever get a launchpad, I'm going to work to make the world a better place."' '
Brandi Carlile performs Thursday, June 28, at 7 p.m., at the Filene Center at Wolf Trap, 1551 Trap Road, Vienna. Tickets are $30 to $40. Call 877-WOLFTRAP or visit wolftrap.org.