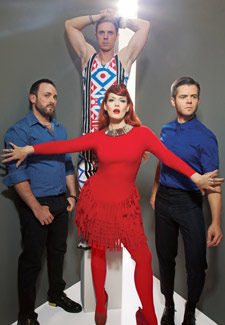 The Scissor Sisters
In other words, Shears and the similarly pseudonymous Babydaddy, the band's principal songwriters, don't skirt serious subject matter – or even somber balladry.
Shears, whose given name is Jason Sellards, says he knew he wanted to be a singer when he was just a kid in Seattle. By the time he moved to New York for college, however, he was focused on contemporary literature and writing fiction. "I think it definitely helped me [develop] the stories that sort of happen in songs," Shears says.
Shears has never been one to have grand designs or plans. Certainly Scott "Babydaddy" Hoffman and Shears didn't expect much to develop from their flashy performance art group, forged in 2001 and provocatively named after a lesbian sex act. They just wanted to be part of underground New York club culture at the time. "At first it was like, 'Oh, let's get some gigs,"' he recalls. "And then you get some gigs, and then people started responding to songs, so it was, 'Let's write some more songs."' Soon enough, they created a self-titled debut album that would go on to become 2004's biggest-selling album in the United Kingdom, and turned them into stadium-filling pop superstars throughout much of the world.
Yet the band, which also includes guitarist Del Marquis and drummer Randy Real, hasn't managed to develop much more than a cult and gay following on the home turf. Still, Shears is emerging as one of American gay culture's leading creative figures. In addition to his work with Scissor Sisters, Shears is co-writing the score for a musical adaptation of Armistead Maupin's Tales of the City – despite a lack of experience writing musicals. After mostly positive reviews from an early version of the show in San Francisco last summer, the next step is a New York workshop to try to line up more producers for an eventual Broadway run.
In the meantime, there's a year of touring ahead to support Magic Hour. "It was a really fun album to put together," Shears says. "And it happened faster than really any of them have before – almost too fast." Magic Hour was released only two years after Night Work, and the sound of that stunning, often euphoric, all-dance set does color the latest. "I wanted them to kind of be complements to one another in a way," Shears says, adding, "Magic Hour is a warmer album. The sentiments are a lot warmer."
The U.S. tour includes stops next weekend in New York. But at least for Shears, D.C. is as much of a homecoming. For starters, Shears actually met the man who would become his husband at the band's first concert at the 9:30 Club in May 2004.
And then there's the fact that Shears's parents now live on a farm in Virginia – and never miss a D.C. show. "I have incredible parents that are just with me all the way," he says. "I'm super, super, super lucky because especially a lot of creative gay people don't necessarily have that. I feel like a really fortunate guy."
Scissor Sisters perform Monday, July 2, and Tuesday, July 3, at Nightclub 9:30, 815 V St. NW. Tickets, remaining for July 3 only, are $40. Call 202-265-0930 or visit 930.com.