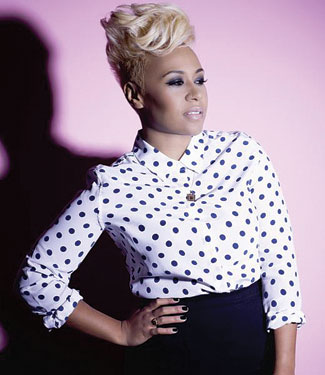 Emeli Sandé
(Photo by Simon Emmett)
Forget the Song of Summer competition. At this point in the season, you're probably tiring of most of the leading contenders, from Scissor Sisters' "Let's Have A Kiki" to Gotye's "Somebody That I Used To Know" to certainly Carly Rae Jepsen's "Call Me Maybe."
But what about the title of Newcomer of the Summer? There are several brand-new female pop and soul singers waiting in the wings, crying out for you to notice them. The cream of this new diva crop: Emeli Sandé, Lianne La Havas and Elle Varner.
But first, attention must be paid to New Yorker Azealia Banks, all of 21. Banks almost singlehandedly steals the crown with her unbelievably ballsy, hooky rap kiss-off "212," the video of which you've no doubt seen out and about by now. (If not, do yourself a favor and check it out on YouTube.) Banks' new mixtape Fantasea, available as a free download from Twitter, is a fun, hot mess, marinated in '90s-era house and R&B beats, as capped off by the perfectly realized cheating-hearts anthem "Esta Noche," sampling Montell Jordan. But Banks is reportedly now working with Kanye West – Lady Gaga has come calling, too – so Banks is gearing up to explode early next year, with the expected release of her debut full-length.
Emeli Sandé
Our Version of Events
Capitol
$6.99




THE LONDON OLYMPICS should have gotten you hip to Emeli Sandé, and her incredible debut album Our Version of Events. Problem is, her attenuated performance at the Closing Ceremony was a bit uninspiring, and then our version of events during the Opening Ceremony mostly ignored Sandé, as NBC cut to an interview of Michael Phelps by that blowhard Ryan Seacrest.
The 25-year-old Scottish singer-songwriter Sandé, born to a Zambian father and an English mother, sings her dramatic heart out like her compatriot Leona Lewis, but with a warmer voice and a more genuinely felt delivery. Our Version of Events starts off dreamily, with the anthemic house-tipped ballad "Heaven" – which to my ears recalls Homebrew-era Neneh Cherry, or Massive Attack. "Oh, heaven, I wake with good intentions," she coos. "But the day it always lasts too long." Honestly, you might find Sandé's album lasting a hair too long but it's all worth the time with gems like the jazzy "Mountains," the wrenching piano ballad "Read All About It (Pt. III)" and of course the breathtaking gospel-inflected "Next To Me," which will no doubt end the year as one of the best singles.
Download these: "Heaven," "Next To Me."
---
Appearing at Howard Theatre Oct. 8
Lianne La Havas
Is Your Love Big Enough?
Nonesuch
$10.99




ANOTHER MULTI-RACIAL British singer causing a stir this season is Lianne La Havas, born only 22 years ago in London to a Greek father and a Jamaican mother. La Havas has been the toast of NPR critics, who have called her debut Is Your Love Big Enough? "the stuff of Best New Artist Grammys." This fall La Havas will open for previous Best New Artist winner John Legend, just as she did last year for the most recent Best New Artist Bon Iver. Some have compared her to Alicia Keys – though I think she sounds most like the artist Keys beat as Best New Artist in 2002, India.Arie. La Havas is a bit edgier than Arie, especially on the stunning song "Forget," which even channels a little Siouxsie Sioux in the way she wails. In any case, the more time you spend with the charming, smoky alto, the more you'll appreciate her originality. She's wise far beyond her years.
Download these: "Don't Wake Me Up," "Forget," "No Room For Doubt."
---
Elle Varner
Perfectly Imperfect
RCA
$9



AND ONE HALF
THROUGHOUT MOST OF her debut, Elle Varner sounds like the 23-year-old that she is, singing of getting lost – and especially drunk – in love ("Refill"), or wishing her courage wouldn't fail her as she sees a boy she wants to meet ("Not Tonight"). Did I mention Varner, of Cape Verdean descent, born in Los Angeles to successful R&B songwriters, titled her debut Perfectly Imperfect? It's actually far more perfect than imperfect, especially with jams like "Oh What A Night," in which she sounds like a smarter, more responsible Ke$ha. She gets too drunk on Patron shots to drive home, so opts to just pick up her truck tomorrow, and then contemplates giving up alcohol altogether. "I hate to be a quitter, but I'm thinking 'bout my liver," she amusingly raps at the end. "And the liquor that I give her, it's gonna kill me even quicker."
Varner's closing track "So Fly" is an anthem for anyone with self-esteem and body image issues. After contemplating contacts, liposuction and implants, all in an effort to be fly and get boys to notice her, Warner reasons: "Somehow that don't make much sense. I must be out of my head, if I think that I am governed by material things… Ain't no way you can be fly, not if it costs you a dime."
To paraphrase Varner, can I get a refill?
Download these: "Refill," "Oh What A Night," "So Fly."