Movies are larger than life. When a film is projected onto the big screen, characters become gargantuan to our puny little eyes. They're above us, towering over audiences, asserting their lives into our reality. The sheer size of a projected film absolutely dominates the viewing experience — for all intents and purposes, scope is the means we use to lose ourselves in a story. It's our method of escape.
All of which is to say: When it comes to movie theaters, size matters. And in the D.C. area, none are bigger or better than the Smithsonian's trio of IMAX theaters. Don't confuse these with the typical "IMAX" theaters of your local multiplex. The National Museum of Natural History's Samuel C. Johnson Theater, the biggest of the bunch, checks in at 60 feet tall and 90 feet wide. That's the height of a six-story building — and those dimensions also make it the home of the largest flat movie screen on the East Coast. Its sister theaters — the Steven F. Udvar-Hazy Center's 62-foot-tall Airbus Theater and the 46-foot-tall Lockheed Martin Theater at the National Air and Space Museum, which also boasts the full-dome Einstein Planetarium — are nothing to scoff at either. (Contrary to local legend, however, the Lockheed Theater is not the oldest IMAX theater in the country.)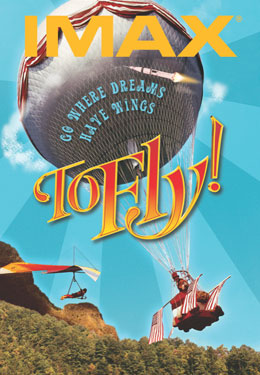 IMAX Poster from Smithsonian
Together, these theaters offer nearly unparalleled opportunity for state-of-the-art documentary and 70mm film enthusiasts. While each one is tailored to screen films in line with the Smithsonian's educational purpose, they've nonetheless touched upon a wide variety of topics: In 2012 alone, the theaters have screened films about dinosaurs, arctic expeditions, the Hubble Space Telescope, astronomy, tornadoes, and U.S. Air Force training exercises. What's piqued the interest of anyone who isn't a tourist, however, is the Smithsonian's foray into commercial film: This summer, the Johnson, Lockheed and Airbus theaters are also screening The Dark Knight Rises.
Hollywood aside, the spectacle of IMAX is easily its biggest appeal. That's the attractive quality of the Smithsonian's theaters: The size of these screens borders on the absurd, yet the technology involved allows for a rare kind of immersive experience that comes shockingly closest to mimicking reality — in some ways, it's even better. When you're outside in the real world, after all, you'll never see a six-story-tall Batman.