"I would certainly welcome a midlife crisis," deadpans Bob Mould, "because that would probably get me a shiny car and a couple new tricks."
Instead, Mould has a shiny new album, Silver Age, on which he beams with renewed self-confidence. Mould attributes the album's vibrancy in part to spending a year with the Foo Fighters, both performing on the band's Grammy-winning album Wasting Light and on its tours of stadiums and festivals worldwide.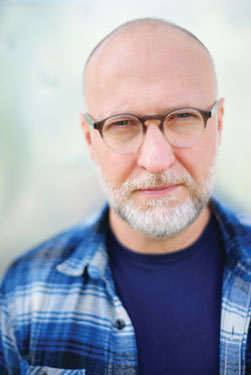 Bob Mould
(Photo by Peter Ellenby)
"Just being in that setting where I'm getting up and playing rock guitar with a bunch of guys, in front of 15,000 people, reminds me that I'm actually pretty good at that," Mould says, chuckling at his uncharacteristic bit of boasting. "It made for a really nice setting to write a record like this one."
Silver Age is as hard-charging as that description makes it sound. It's a decided departure from Mould's last few solo albums, more tempered musically and more reflective lyrically.
"It's a natural reaction to three years of writing an autobiography, and a year of talking about it," Mould says of Silver Age's lyrics and referring to last year's See A Little Light: The Trail of Rage and Melody. All that soul searching can leave a man looking for release.
"It was nice to write a three-minute song instead of a three-year book," he says. "It's a little more immediate to just put together a bunch of pop songs."
Since he last put together a bunch of pop songs, 2009's Life and Times, Mould has moved from D.C. to San Francisco. But D.C. remains the home base for Blowoff, his DJ-driven dance party with Rich Morel, and the party returns to the 9:30 Club this Saturday, Sept. 8, four months before its 10th anniversary. Earlier that evening, Mould will perform, with bassist Jason Narducy and drummer Jon Wurster, tracks from Silver Age as well as, from start to finish, Copper Blue, the 20-year-old album from Mould's former power-pop band Sugar.
"[Silver Age was written] as a complementary piece to that album, something that would be in that signature style," he says. "Loud, melodic, aggressive guitar music."
Also read: Metro Weekly's review of Silver Age.
Bob Mould performs Saturday, Sept. 8. Doors at 7 p.m. for the concert and 11:30 p.m. for Blowoff. Nightclub 9:30, 815 V St. NW. Tickets are $25 for the concert, $12 for Blowoff. Call 202-265-0930 or visit 930.com.