"I'm in good health," says Rich Morel, adding with a laugh, "I'm going to make it through the weekend."
Morel is in better health – and spirits – than you might otherwise think. After all, he titled his last Morel album The Death of the Paperboy. And the name of his new band with Fugazi's Brendan Canty? Deathfix.
"I'm just getting ready to go," Morel jokes.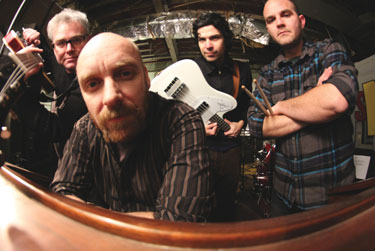 Deathfix: Brendan Canty, Rich Morel, Mark Cisneros, Devin Ocampo
In fact, Canty came up with the name Deathfix, which Morel says suits the band's sound in a way reminiscent of earlier groups. "It just sort of stuck in the same way that Roxy Music or one of those names attached to a style of music all of a sudden creates this other."
The other in Deathfix's case is a merger principally between the hazy, even-keeled electronica that has become Morel's signature and Canty's angry, angular hardcore punk. Canty, the guitarist, shares vocal duties with Morel, the keyboardist. Adding in drummer Devin Ocampo and bassist Mark Cisneros, both from local garage-rock band Medications, results in a sound that Morel – "the only gay in the band," he cracks – calls "super-dramatic" in a progressive rock kind of way. It's eerie, but not off-putting. "It's big on melodies and themes and ideas," says Morel.
Morel and Canty first met while touring six years ago with Bob Mould – who is, of course, Morel's Blowoff partner in crime. But the two just kept it casual until the last year or so, when they started playing gigs and recording material. Fugazi's storied D.C. label Dischord Records will release Deathfix's debut album early next year.
It's just one of many side projects for Morel, which also includes his D.C. and Baltimore party Hot Sauce. Plus, he's about to make his Broadway debut, in a manner of speaking. Morel has been collaborating with Cyndi Lauper on the music and lyrics to Kinky Boots, the drag-centric musical based on the 2005 British film she's writing with Harvey Fierstein. It's expected to land on Broadway early next year.
"I think I've only seen two musicals in my life," says Morel. "So it's kind of funny."
Deathfix performs Saturday, Oct. 13, at 9 p.m. at the IOTA Club and Café, 2832 Wilson Blvd., Arlington. Tickets are $12. Call 703-522-8340 or visit iotaclubandcafe.com. Also Friday, Oct. 26, at Comet Ping Pong, 5037 Connecticut Ave. NW. Tickets are $10. Call 202-364-0404 or visit cometpingpong.com.