SEPTEMBER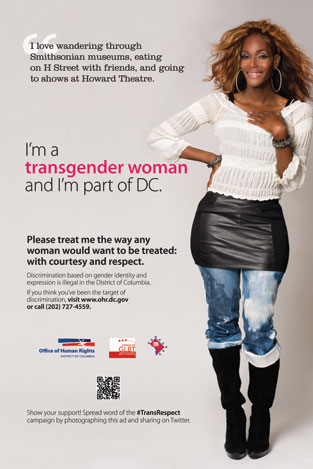 Kisha: DC's Transgender respect campaign
Moving from DHS to courts, Pelosi and 144 other House Democrats started September by filing a brief in the case of Windsor v. USA arguing the Defense of Marriage Act is unconstitutional. Notably, a somewhat smaller group of Democrats made a similar filing in July in Golinski v. Office of Personnel Management. The big September news for Democrats, however, was the party convention in Charlotte, N.C., where the call for marriage equality was approved by delegates and several speeches highlighted gay rights.
Here at home, the D.C. Office of Human Rights launched the first-in-the-nation transgender awareness and education campaign. "You can't imagine how good it feels to do the right thing," Mayor Gray said at the Sept. 13 launch party. And a global effort honored a local hero Sept. 13, when Immigration Equality awarded Barrett Brick the group's Global Vision Award as "a consistent voice in speaking out on behalf of LGBT immigrant families."
The home front also got a dose of celebrity Sept. 25, with Adam Lambert agreeing to headline a fundraising concert organized by Seth Hurwitz, 9:30 Club co-owner and a Maryland resident, benefiting Marylanders for Marriage Equality. "I'm a singer, I'm an entertainer. I'm not a politician. But this is an issue that affects me because it supersedes politics," Lambert told Metro Weekly.
In the land of celebrity, California Gov. Jerry Brown (D) closed out the month by signing into law a statewide ban on so-called "conversion therapies" by licensed therapists treating minors with the intention of making them "ex-gay." "These practices have no basis in science or medicine and they will now be relegated to the dustbin of quackery," Brown said.