Most of the technology we own isn't identifiable items like smartphones and tablets. It's stuff, paraphernalia, things — those chosen pieces that perform a particular purpose so well that they stop being desirable gadgets and simply become part of our daily routine. That's not to say, however, that the speakers, radios and random gifts you have and give to others aren't worthy of desire. We at Technocrat love tech to be as eye-catching as it is competent, and for our final day have lined up the best accessories to give someone this Christmas, all guaranteed to fill a void the recipient likely didn't know they had.
Jawbone Big Jambox – You know that one person who always insists on using their laptop or smartphone to play music through? Yeah, that guy. Well, rather than simply unfriending him and walking away, why not give him the gift of music as it was meant to be heard? Jawbone's Big Jambox is the big brother of their much-lauded Jambox mini speaker, and it's the perfect accompaniment for anyone who plays their music in the house, on the roof, at the pool, in the park… anywhere. Featuring stereo acoustic drivers, dual passive bass radiators, Bluetooth compatibility with 2 simultaneous devices, 15-hours of battery life, LiveAudio – which gives music a 3D effect by multi-layering the instruments/sounds – and compatibility with a wide range of devices, the Big Jambox is sure to entertain. It's light, at just under 3 pounds, and is small enough that it can be taken with you and large enough to completely fill a room or space with sound. Available in white, red or black, the Big Jambox is $299 – but it's a price worth paying to never hear low quality smartphone speakers again.
TARDIS USB Hub & Dalek Desk Defender – Nothing says geek like a love for Dr. Who. Except, that is, for the official Dr. Who USB hub. Complete with flashing lantern and time travelling sound effect when a USB device is
plugged in, it's sure to delight any Whovians in your life. Send them into overdrive by combining it with the Dalek Desk Defender, which, when plugged in, will guard your desk while you leave to fight Cybermen or get your lunch. Motion activated, it will sense rogue employees up to 9 feet away, and actively deter them with threats of extermination. Pointless fun, they're sure to bring a smile to someone's face when they unwrap them. At least once they realise it's not a real Dalek. $19.99 and $24.99 respectively from ThinkGeek.com.
TurtleBeach Ear Force PX5 Gaming Headset – Gamers know that there's few things better than a good set of speakers to truly enjoy a game — every gunshot, explosion, screeching car tire and roaring battle cry feels that much more immersive when it's delivered in surround sound with thumping bass. Why, then, should you sacrifice when the neighbors or relatives complain about the noise during your all-night Halo sessions? With 7.1 Dolby Surround Sound, deep bass, Sonic Silencers that eliminate background noise, 5cm-wide speakers, a removable mic, aux input to put your own music into the game, programmable audio presets and the ability to connect to your phone and answer phone calls, the PX5's sacrifice nothing in making your quiet gaming session as good as it would be with a full speaker set-up. Perfect for hardcore gamers who love to play long after everyone else has shut down and gone to bed, the PX5's are available for $249 — and we think they're worth the premium.
iRobot Roomba – No more vacuuming. If you know anyone who would cry with pleasure at hearing that, then the Roomba is for them. The Roomba wants nothing more than to be placed next to an outlet, told when you're out the house, and occasionally emptied of its contents — aside from that, it's perfectly independent. Switch it on, go to work, and come home to clean floors, it's that easy. Available in several flavors, with increasing levels of programmability and adaptability, it's an expensive way to free someone from their weekly chores — but it's an addictively easy way to keep the house clean. Starting at $349 for the base 630 model, and rising to $699 for the top-of-the-line Roomba 790.

Bowers & Wilkins C5 – If you, or those you plan to buy for, are the sort who are content with the standard ear-phones that come with today's audio gadgets, then this isn't the gift for you. B&W's C5's are for those who crave perfect audio, whether at home, out for a run or on a plane. Audiophiles, listen up. With a secure loop design to keep them in place, noise isolation to keep background noise out, a micro porous filter to enrich the sound it produces, Tungsten sound tubing to weight sound into the ear, and an in-line microphone and remote control compatible with iOS devices, the C5's are serious auditory business. Starting at $179, the C5's are premium earphones, but the price of entry is worth it for the way they reproduce audio.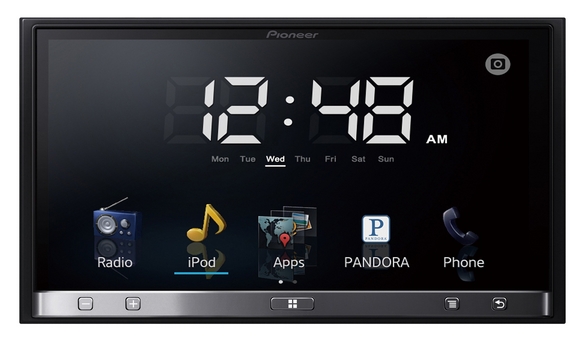 Pioneer AppRadio 2 – Using your phone in your car is dangerous. Removing concentration from the road costs hundreds of lives each year, and it's just not worth it. However, for those of you who simply have to listen to music, make calls, find directions or check traffic, the AppRadio seeks to remove many of the steps and diversions that lead to accidents. Featuring a 7-inch, 800×480 capacitive screen, it connects to iPhone 4/4S, 4th gen iPod Touch and select Android phones, and utilizes their data network to perform its functions. Powered by the AppRadio app, installed on your smartphone, the AppRadio allows users to stream internet radio, stream music, check their schedule, browse the internet, stream Netflix, watch Youtube clips, view photos and video, access contacts, use sat nav, make hands-free calls and even find nearby parking spaces, and compatible apps are constantly being updated. Visual tasks such as photo viewing, watching videos and browsing the internet require the vehicle to be stationary with the parking brake engaged — a necessary precaution. Available for $599, it's an expensive way to bring your smartphone to your dashboard, but if it removes the need for people to fiddle with their phones while driving a 2-ton vehicle, the AppRadio is worth it.
Read the 5 Days of Techmas – A Holiday Gift Guide: Cameras.