The conservative Family Research Council (FRC) this week posted two videos of accused shooter Floyd Lee Corkins II to its YouTube page pointing the finger at the Southern Poverty Law Center (SPLC) for listing FRC as a hate group, just days before Corkins is to be sentenced for attempting to shoot and kill FRC employees at the organization's D.C. headquarters last August.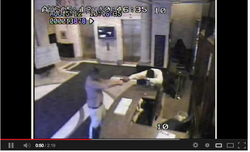 The first video, posted Wednesday, shows Corkins being interrogated by FBI investigators, telling them he got the name of FRC from a list of anti-gay hate groups posted on SPLC's website. The second video, posted Thursday, features security footage taken from cameras showing Corkins shooting at and being subdued by security guard Leonardo Reno "Leo" Johnson, who was shot in the arm by Corkins. The second video also repeats the interrogation footage posted Wednesday, claims the SPLC was "connected in federal court to this first domestic terrorism conviction in Washington, D.C. under this post-9/11 law," and says that SPLC has refused to remove FRC from its list of hate groups.
The videos come just days before Corkins, of Herndon, Va., is scheduled for sentencing in U.S. District Court for the District of Columbia on Monday, April 29.
Corkins previously pleaded guilty in February to three felony charges: committing an act of terrorism while armed – becoming the first defendant charged and convicted under the District of Columbia's Anti-Terrorism Act of 2002, which prosecutes actions committed with the intent to "intimidate or coerce a significant population of the District of Columbia or the United States" – assault with intent to kill while armed and interstate transportation of a firearm and ammunition.
Both pieces of video footage on FRC's YouTube channel came from government evidence exhibits that were made public following the filing of a sentencing memorandum by the government on April 19, in which prosecutors asked for a 45-year prison sentence for Corkins. Under sentencing guidelines, Corkins could have served up to a maximum of 30 years in prison for the terrorism offense and the assault charge, and up to 10 years for the weapons-related charge.
"In sum, Mr. Johnson's actual pain and suffering, coupled with the emotional trauma endured by the FRC employees, must also be considered in fashioning any overall sentence that the defendant receives," the government concluded in its memorandum. "Accordingly, the Government submits that an aggregate sentence of 45 years for the defendant's three separate offenses would be consistent with and not disparate from those of similarly situated defendants."
According to the facts of the case, as acknowledged by Corkins's decision to plead guilty, Corkins, who once briefly served as a volunteer front-desk receptionist for The DC Center, the District's major LGBT community center, purchased a semiautomatic pistol from a store in Virginia on Aug. 9, 2012, and picked up the weapon with the intent of shooting and killing as many employees at FRC as possible. On Aug. 13, Corkins rehearsed his planned trip to FRC headquarters, and returned to the gun store the following day for shooting practice.
On Aug. 15, Corkins rode Metrorail into the District and went into FRC's headquarters at 801 G St. NW, in the city's Chinatown neighborhood. To gain access to the building, he told Johnson he was interviewing as a prospective intern. Corkins then approached the unarmed Johnson, pulled the pistol from his backpack and pointed it at him. Johnson charged Corkins and the two struggled as Corkins fired three shots, striking Johnson in the arm. Despite his wounds, Johnson subdued Corkins and handed him over to Metropolitan Police Department (MPD) officers prior to the arrival of federal officers. For his actions in protecting the FRC staff, Mayor Vincent Gray awarded Johnson with the inaugural Mayor's Medal of Honor on Oct. 22, 2012.
Police later discovered two fully-loaded magazine clips in Corkins's pants pockets, as well as a Metro card and a handwritten list of organizations that included FRC and three other groups promoting socially conservative or anti-gay agendas. Corkins also had a box of 50 rounds of 9-millimeter ammunition in his backpack, and 15 individually-wrapped sandwiched from Chick-fil-A he had purchased the day prior to the shooting.
Under questioning by FBI agents, Corkins claimed he was a political activist and stated that he had intended to kill as many people as he could and smear the Chick-fil-A sandwiches into their faces. He claimed he had identified FRC as an anti-gay organization from the list on the SPLC website. According to investigators, Corkins said he had been thinking about committing similar violent acts for years but had never gone through with them, and that had he not been stopped at FRC headquarters, he planned to go down the list to the next organization and commit a similar shooting there. He also said he had originally wanted to make a bomb, but did not have the patience for it.
In an April 25 press release, FRC noted that Corkins had cited the SPLC in his interrogation by FBI investigators.
"[Corkins's] act of terrorism has put sunlight on SPLC, which has targeted a wide swath of Americans for standing up for traditional values, most often Christian and conservative," FRC noted in its release.
"The SPLC's reckless labeling has led to devastating consequences," FRC President Tony Perkins said in a statement. "Because of its 'hate group' labeling, a deadly terrorist had a guidemap to FRC and other organizations. Our team is still dealing with the fallout from the attack, that was intended to have a chilling effect on organizations that are simply fighting for their values.
"The Southern Poverty Law Center, which has now been linked to domestic terrorism in federal court, should put an immediate stop to its practice of labeling organizations that oppose their promotion of homosexuality," Perkins continued. "In a civil society, shutting down debate is not how reasonable people and organizations operate. Intimidating and bullying others shreds the 'ordered liberty' of which our Founders wrote and for which they advocated, and places all of us in jeopardy of losing our sacred rights as militant extremists claim the public square exclusively for themselves."
A spokesperson from SPLC was not immediately available for comment.
[Photo: Screenshot of the YouTube video showing Corkins pointing a gun at Johnson (courtesy of the Family Research Council.)]