The raunchy gay bear rapper known as Big Dipper has gained a reputation as a sexual provocateur. "Every venue I go to, after my show, the space really transforms and everyone just sort of goes much harder," he says, with patrons making out and grinding. It's not just a function of Big Dipper's sexually charged swagger and rhyming. It's also his antics, including a "Dick Bounce" competition, named after one of his raps. "It's a dance competition," he explains. "Instead of twerking or popping their butt, everyone bounces their dicks as the dance move."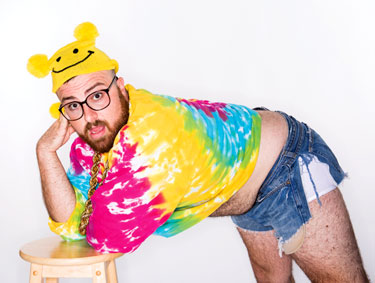 Big Dipper
(Photo by Cheryl Mann)
Obviously, the Chicago-based performer is having fun twisting hip-hop's machismo conventions to be gay, following to some extent in Cazwell's hi-top footsteps. Big Dipper, who declines to reveal his birth name, was initially inspired to rap when Eminem emerged on the scene when he was in middle school. But the superstar white rapper's homophobia dissuaded him from pursing his "secret dream" of rapping until a few years ago. "In college I wrote a little bit, but I always tried to pass it off as spoken word," says the 28-year-old performer, who majored in theater and recently worked as a theater director and choreographer in the Windy City. For his rap career he adopted the astrological name Big Dipper partly to honor that constellation being part of another, Ursa Major – aka Big Bear.
Last year Details magazine included Big Dipper as one of seven of "Hip Hop's Queer Pioneers." And the raunchy rapper is aiming for mainstream success. "Maybe they can't play me on the Top 40 right now," he says, "but I want my rap music to turn into pop music." He optimistically gives it two years' time before that happens.
In the meantime, he's working to cultivate a fan base, one bear — and one extended family member — at a time. "I'm going to see a ton of my extended family when I come to D.C.," he says, referring to his area debut this Sunday, April 28. Hopefully, the crowd won't bounce too hard. '
Big Dipper performs Sunday, April 28, at 9 p.m. Comet Ping Pong, 5037 Connecticut Ave. NW. Tickets are $10. Call 202-364-0404 or visit cometpingpong.com or bigdipperjelly.com.