Last year, just before the band "fun." became a mainstream pop sensation — and an eventual Grammy winner — the trio appeared at the Sweetlife Festival at Merriweather Post Pavilion.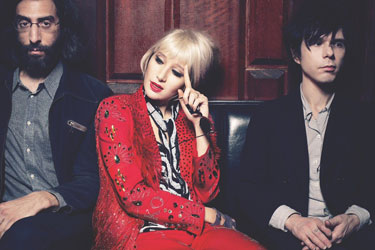 Yeah Yeah Yeahs
"It's been exciting to see all of the success of fun. and ASAP Rocky and Kid Cudi," says Sweetlife's Laura Rankin, citing three pop acts that have played the festival in the past few years, and all before they garnered significant mainstream appeal. This year's impressive festival lineup includes many on-the-verge acts, including Kendrick Lamar, Foxygen, Holy Ghost!, Lindsey Stirling and local band Shark Week. It also features a bounty of cult and hipster favorites, from Phoenix to Passion Pit to the Yeah Yeah Yeahs to Solange, otherwise known as Beyonce's eccentric little sister. "Hopefully next year we can do a third stage, a true local stage [with] five or seven local bands," says Rankin, who produces the festival in-house for Sweetgreen, the local gourmet fast food salad chain, in partnership with the 9:30 Club's IMP Productions.
But while hip music may be Sweetlife's most obvious draw, the festival, set for Saturday, May 11, also highlights its parent company's focus on healthy, local, sustainable living. In many ways, the festival, touted as carbon neutral, is like a belated, more corporate-focused Earth Day celebration. "We call it an annual celebration of music, wholesome food and just thoughtful living," says Rankin, who notes that proceeds benefit Sweetgreen In Schools and its work with D.C. public school students through the DC Farm to School Network. Now in its third year at Merriweather, Sweetlife is expected to draw upward of 20,000 people wandering throughout the woodsy setting, beyond the concert stages, to explore pop-up stores and tables staffed by Sweetgreen and its many local restaurant and farm partners, including Toki Underground, Rogue 24, FreshFarm Markets and Keany Produce Co.
Says Rankin, "We're really just creating these destination points for people to meander through the woods and discover."
The Sweetlife Festival is Saturday, May 11, starting at noon, at Merriweather Post Pavilion, 10475 Little Patuxent Parkway, Columbia, Md. Tickets are $75 to $150. Call 800-551-SEAT or visit sweetlifefestival.com.