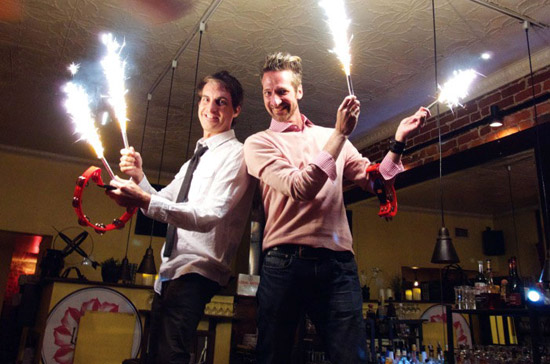 Jim Ball (right) and Christopher Lynch at L'Enfant Cafe
(Photo by Todd Franson)
LYNCH: We've been to Paris, but we also lived in the East Village, which has a lot of small French bistros and cafés, just like in Paris. At the time, Bistro Du Coin was the only thing close, so we kind of came in and dove into a niche of being a European café with a patio.
BALL: There is a certain sense of fun about France. The thing a lot of Europeans do very well, but particularly in Paris, is the café. One of the sine qua nons about where we were going to locate this restaurant was that it had to have a patio. When we stumbled upon this little corner, it just screamed what we could do with a patio – and how cute the inside could be.
MW: With L'Enfant Cafe being a Valentine's Day gift, is there any lesson you might share with couples doing business together?
LYNCH: Yes. Don't do business together.
BALL: [Laughs.] Especially if he's Christopher.
LYNCH: There's a reason they say that. Probably about six months after we opened –
BALL: We'd been together probably three years by that point. We opened the doors and broke up six months afterwards. People say, "Oh, the restaurant destroyed your relationship." It might've exposed some flaws in it. Conversely, it exposed the strengths of our friendship. That was nine-and-a-half years ago, and we're best friends, right?
LYNCH: Yes.
BALL: We know how the other thinks. We can have a dead-on fight, and two minutes later be back up. That might be part of the energy of the thing. I know what he's thinking, he knows how I'm going to react – well, a lot of the time. It's a very good partnership with a lot of trust, a lot of history. There were just a couple months of ugly.
LYNCH: I think the passion for the business, developing what L'Enfant is, this unique little spot, that passion just kind of led us through that rough spot.
MW: What brought you to this – owning a café together – in the first place?
BALL: We both decided to change our lives to do something that was a dream for both of us.
LYNCH: I wanted a lifestyle change, and it had two criteria. One, I had to learn something new. I'd been in the same field for so long. Second, I wanted to work for myself. A passion for making it work drove us through the rough spots.
BALL: If we were fighting about something, having a heated little moment, one of us would say, "Right now, are we honoring the dream?" That was sort of defusing. It might not resolve it, but we'd go back to our separate corners, lick our wounds and start again the next day.
Then we got our cadence – retained our cadence, I should say, because we never lost it.