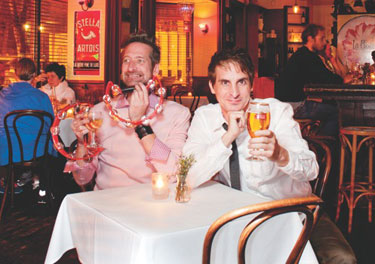 MW: I've spoken to some entrepreneurs who have told me that the exact nature of the business was irrelevant to their plan. The nature of a business is, after all, to make a profit. But that doesn't seem your primary motivation.
BALL: I think we did it to make people happy. Two of those people we wanted to make happy were ourselves.
I was doing corporate and having a good time with what I was doing, owned my own business. But you're somewhat restricted by the clients you have. I was doing some very large corporate clients that were somewhat conservative, not as playful as I wanted my life to be. I thought this would be fun, that we could do something fun, that it would stretch our creativity to see what we could do.
LYNCH: I sit with people at dinner and they just complain about their jobs. And I think to myself that there's not one day that I wake up and say, "Gosh, I don't want to go to work."
MW: I'm guessing you both have pretty grueling schedules with the café, though.
LYNCH: True, it is tiring. It is sometimes mentally and physically exhausting. But it's also challenging and exciting, as well. Those two elements keep you up, keep you going through it. I am not worn out after 10 years of doing this. I'm actually feeling more in a sweet spot than I did five years ago.
BALL: Because there are two of us – two men, one child, "l'enfant" – it's like two parents taking care of the kid. Mommy can take the night off once in a while, because Daddy's got Junior. We can hand off our load once in a while. Or the two of us can together kick out a solution for something one of us is stuck on.
MW: Why did you choose Washington? Why not Manhattan, where you were living at the time?
BALL: We thought about New York. It crystallized in my mind when I was here at Easter, at a friend's house, sitting outside and watching spring come so early. I saw all the flowers and trees and grass and sky – in Manhattan you don't really get to see spring appear so dramatically unless you go to one of the parks. I thought, "Wow, what a pretty city. I could maybe live here."
When I mentioned to Christopher, "Hey, why don't we do this in D.C.?" it was like I'd asked him to chop off his nuts. [Impersonating Lynch.] "I just got out of there!"
MW: Once you settled on D.C., was it easy to pick a spot?
LYNCH: There is some sort of chakra at this intersection for me. I have owned two places, rented one or two places, now own a business all within a three-block radius of this intersection. There's something about this intersection that keeps drawing me here and won't let me leave.
BALL: The place kept calling to us. Eric Hirshfield at the Duplex Diner said, "You really should talk to the guy next door." Things kept falling into place.
MW: Did you already know Eric?
LYNCH: No. We were dining there while we were down on a field visit to find a place. We just happened to have a burger at Duplex and asked our waiter, "Do you know of any places?" He said, "Let me get the owner over," and the owner was Eric, who said, "What about the place next door?" From there, we looked at it from a different angle and saw a lot of potential — corner location, patio, good neighborhood.
BALL: We don't consider ourselves competitors. We consider ourselves neighbors. If you need to borrow something, it's helpful. If they're crazy on a Thursday night, the staff might come over and use our restrooms, because there's a line there. We have that with the neighbors around us.
MW: There's a bit of text on your website that reads, "D.C.'s Best Secret." But you guys pull in a crowd. Doesn't seem like much of a secret.
LYNCH: Well, it is to a lot of people. It's a very small, intimate space. We can only get so many people in here. That's part of the charm. The intimacy is something special here.
BALL: You can go into a quiet corner. But if you come in here alone, it's intimate enough that if you bang into somebody that is friendly…. We have a very friendly crowd.
LYNCH: It's so close, you're almost forced to talk to someone. It's kind of an interesting social experiment. It's really the café experience. Negative comments we get sometimes are really from people who don't understand it. "Oh, the tables are too close together."
BALL: "That place is so crowded, no one goes there."
LYNCH: "The music is too loud." It's a person who really thinks Applebee's or a big-box restaurant — that's their place. They're not used to a building that's 120 years old, and a European environment.
BALL: You kind of get that when they walk in the door and say, "Why, oh why, do they have a disco ball hanging from the ceiling?" "Why does the owner have a tambourine in his hand?" [Walks to a corner of the dining and retrieves two tambourines.] Not only do we have one, but two.
We're really – Christopher has coined the phrase – one of the best people-watching corners in D.C. We're an intersection of five streets here, but we're not a big circle. We're the gateway to Adams Morgan. Sit on this corner in good weather, you'll normally hear, "Hey, there" or "Hey, girl!" The next thing you know, chairs are coming over, a table of two evolves into a table of eight. It's really a fun, social experience to sit out there.