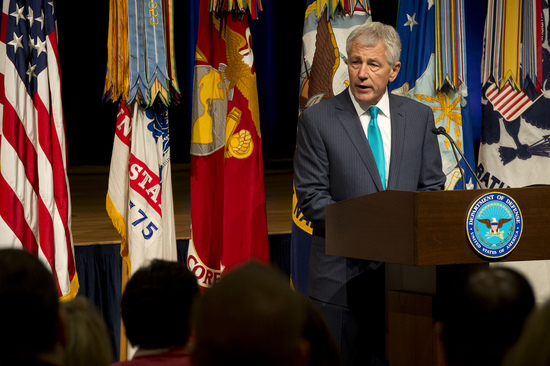 Secretary of Defense Chuck Hagel marked June as LGBT Pride month at an event at the Pentagon today, describing gay and lesbian servicemembers as "integral to America's armed forces."
It was a first for Hagel, who was confirmed as defense secretary in February, and a historic moment for the Department of Defense, marking the first time a defense secretary has attended a Pentagon Pride event.
"Our nation has always benefited from the service of gay and lesbian soldiers, sailors, airmen, and coast guardsmen, and Marines. Now they can serve openly, with full honor, integrity and respect. This makes our military and our nation stronger, much stronger," Hagel said at the 30-minute event, that was also attended by White House senior advisor Valerie Jarrett and Acting Secretary of the Air Force Eric Fanning. "The Department of Defense is very proud of its contributions to our nation's security. We're very proud of everything the gay and lesbian community have contributed and continue to contribute. With their service, we are moving closer to fulfilling the country's founding vision, that all of us are created equal."
The mere thought of a sitting secretary of defense attending a Pride month event for out servicemembers would have been inconceivable a few years ago, as Fanning, who is gay, noted. "Just two years ago, you couldn't openly serve in the military, and today we have had the secretary of defense kick off our Pride celebration," Fanning said. "Your presence here today means more than you could possibly understand."
But since the repeal of "Don't Ask, Don't Tell," the military has taken steps to embrace out gay servicemembers.
"Our commitment to equality requires us to continue building a culture of respect for every member of the military, our society, and for all human beings," Hagel said.
Hagel, who served as a Republican senator from Nebraska from 1996 to 2009, encountered pushback from LGBT groups after Obama nominated him as replacement for former Defense Secretary Leon Panetta due to his record on LGBT issues as a senator. Hagel, however, made amends, promising to further implement the repeal of DADT and apologizing for anti-gay remarks he made in 1998 about President Bill Clinton's appointment of James C. Hormel, who is gay, as ambassador to Luxembourg.
Neither Hagel nor Jarrett, during her keynote address, directly noted the military's continued ban on out transgender people, with Hagel instead stating, "Gay and lesbian service members and LGBT civilians are integral to America's armed forces."
"When I look back over the last four-and-a-half years since President Obama took office, nothing better exemplifies that kind of profound and meaningful and historic change than the repeal of 'Don't Ask, Don't Tell.' It is one of the most significant civil rights accomplishments of the president's career," Jarrett said in a speech that focused heavily on the repeal of DADT. But Jarrett also said the work continues "to ensure that the U.S. military is a place where all qualified Americans who are willing to work hard and put mission first and stand up and defend our country can serve their nation and rise to the highest potential."
"Make no mistake, though, we still have a lot of hard work to do. After all, the repeal of 'Don't Ask, Don't Tell' was the beginning. And it's not the end of the process. We're still working to make sure that we have full equality for every member of our military community. Our work is not going to be done until we've ensured that we support and care for all of our service members and their families," Jarrett continued, noting the extension of more than 20 additional benefits to same-sex military families earlier this year.
Additional benefits could be extended if the Supreme Court strikes down the federal government's definition of marriage as between a man and woman under the Defense of Marriage Act. The high court is expected to rule in that case and the Proposition 8 case at 10 a.m. tomorrow, June 26.
Among those in the audience was OutServe-SLDN Executive Director Allyson Robinson, who praised the event, but criticized the vague language of some of the participants.
"While I appreciate the acknowledgment from Ms. Jarrett that there remains significant work to be done and our goal is a military in which all qualified Americans are free to serve, it's time for us to stop using coded language," Robinson told Metro Weekly. "It's time for those of us who truly believe all qualified Americans should be allowed to serve to step up and enumerate just what we mean by all."
Robinson's attendance at the Pentagon event came after turmoil at the nation's largest LGBT military organization that saw the board of directors vote to have her resign as executive director less than a year into her tenure. Several senior staff members and board members resigned in protest after the Saturday vote, and yesterday Robinson announced she would ultimately step down but at a time of her choosing.
[Photo: Chuck Hagel speaks at today's Department of Defense LGBT Pride event (DoD photo by Erin A. Kirk-Cuomo).]