It's no joyride being an aging pop star. At least that's the impression you get listening to the latest releases from Daft Punk and Tricky, both pioneers in their respective styles of electronic dance music.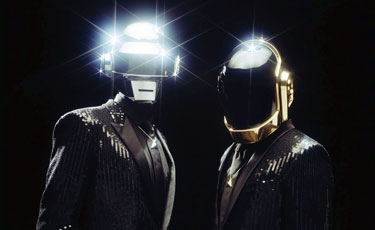 Daft Punk
It was only 12 years ago that Daft Punk stirred dance floors with Discovery, the French house duo's second studio set featuring most of its precision-crafted hits, including "One More Time" and "Harder Better Faster Stronger." Eight years ago the band assaulted us with the cold techno sound of Human After All, which at the time led me to wonder if the band was just all one cruel joke played on us humans by master computers. I was absolutely not interested in hearing more from Thomas Bangalter and Guy-Manuel de Homem-Christo after that daft mess. So even after early critical praise and instant love for first single "Get Lucky," I took my time hitting play on Random Access Memories. But now having taken the plunge, I can say the set does partly restore my faith in the band.
After all, it starts in full disco mode, with "Give Life Back to Music" featuring the great, distinctive guitar work of super-producer Nile Rodgers, from the disco band Chic. There are two other great Rodgers collaborations here, both discofied songs featuring Pharrell Williams, "Lose Yourself to Dance" and "Get Lucky." Even here, we're talking mid-tempo grooves, not the techno-tipped house bangers Daft Punk built their name making.
And most of Random Access Memories moves at a slowed-down, melancholic pace. The set traffics in the kind of slow-burn pensive French house sounds popularized by French acts other than Daft Punk, such as Air, Cassius, and to my ears especially Cosmo Vitelli. The band jazzed up the joint by recruiting other young and hip guest artists. There's the Strokes' Julian Casablancas, who sings in a Daft Punk-signature processed voice on the forlorn "Instant Crush." There's also Panda Bear, the Baltimore-born Noah Benjamin Lennox, who also sings in processed vocals on "Doin' It Right." The slowly swirling tune is like a calmer, less chaotic version of the type of sounds made by Panda Bear's main band, Animal Collective.
Daft Punk
Random Access Memories
Columbia
$11.88



I like the music – and the message – of "Giorgio by Moroder," though it's a bit indulgent, and not just because it runs for over nine minutes. It would work better as part of a documentary on the electronic pioneer Moroder than it does as a long song. I find the eight-minute-long "Touch" a more subtly, fully realized attempt at a story-song about an older artist still seeking fame – in this case, singer/songwriter Paul "Rainbow Connection" Williams. (As well as, of course, the Daft Punk duo.) The song veers from being a spacey psychedelic tune to a jazzy little ditty to a choir-backed cabaret number, all following Williams in his search for more. Which way to happiness, seems to be the lingering, unanswered question.
DOWNLOAD THESE: "Lose Yourself To Dance," "Touch," "Get Lucky"
Tricky
False Idols
!K7
$9.99




-1/2
TRICKY, BORN ADRIAN Nicholas Matthews Thaws, sounds even more forlorn on False Idols – but then that has always been the British trip-hop pioneer's signature style and sound. Two decades ago the rapper/singer/producer Tricky worked with Massive Attack before releasing his own trip-hop classic Maxinquaye in 1995.
Tricky's lyrics and music are heavy-hearted, even provocative — the set opens with an austere bass line and Italian vocalist Francesca Belmonte menacingly whispering a line borrowed from Patti Smith: "Jesus died for somebody's sins but not mine." But the songs on False Idols are short and punchy, with only one clocking in over four minutes, and all leaving you riled up in one way or another. It's really a brilliant work of dark, lusty, woozy tunes that make you think and feel. Tricky often sings in a sinister bass and raps in a whisper, usually as support — casting a shadow — behind sweeter-voiced female guests, most notably Belmonte, whose "Nothing's Changed" in particular is a veritable electronic dirge. It's certainly not everyone's cup of tea, but especially on down or dreary days, it just might work, however perverse it sounds, to perk you up.
DOWNLOAD THESE: "Nothing's Changed," "Nothing Matters," "Somebody's Sins"