It's not easy to stay an icon. Batmans come and go, Spider-Man gets rebooted, and even Superman is moving on from his big-screen roots from the '70s.
But among that upper echelon of all-American superheroes, just one face reigns as the iconic Wonder Woman: the famous smile and Lynda Carter. Decades after her television debut as the Amazonian princess who came to America to fight evil with bulletproof bracelets, a lasso of truth and super-strength, Carter remains a touchstone for both comics fans and the gays and lesbians who found something special in her onscreen persona of female strength and straightforward fabulousness.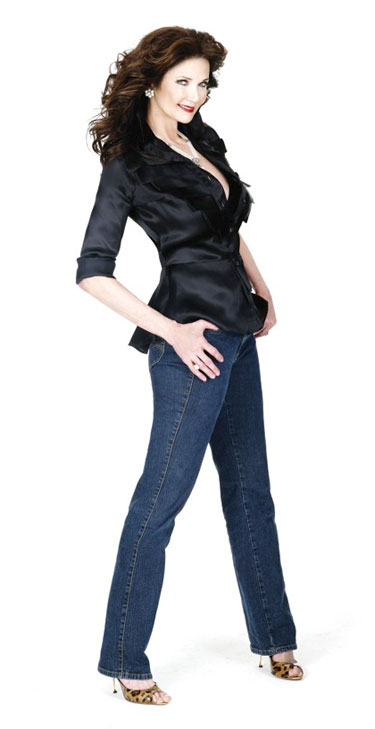 Lynda Carter
(Photo by Karl Simone)
"It's shocking," says Carter. "That's 38 years ago! That I was able to bring that character to life and make it something that people still remember and have feelings about is great! It's very cool."
Still flashing the famous smile that helped cement her place in pop culture, Carter is ready to serve on Saturday as the "Super Grand Marshal" of the Capital Pride Parade, a role she's happy to take on as a longtime resident of the Washington area.
But D.C. isn't her only stop these days. With a newly empty nest at home, she's thrown herself into work returning to her first career, singing, playing dates across the country promoting her new album, Crazy Little Things, and getting ready to head to Fire Island.
You know she'll be asked to do the Wonder Woman twirl. And it will be fabulous.
METRO WEEKLY: You've been a grand marshal for a number of pride parades. What's your first memory of participating in any sort of pride parade or festival?
LYNDA CARTER: I think it's really only been in the last several years. Of course, I went to Phoenix [for Pride] and I've participated in the gay rights movement in general. I'm honored to be asked to be the "super grand marshal" for Capital Pride. It's a great honor, particularly in my hometown, our nation's capital. That's a point of pride for me.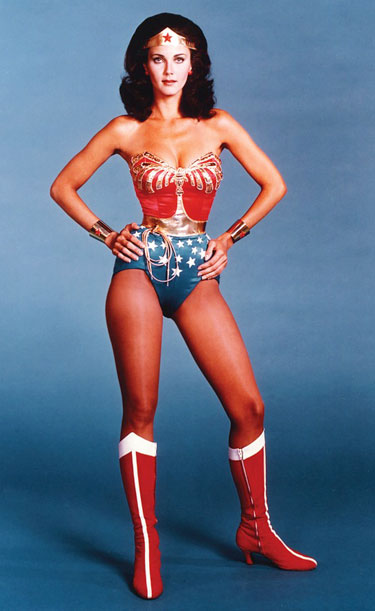 Lynda Carter as Wonder Woman
(Photo by courtesy of Lynda Carter)
But what's really more remarkable is how far [the LGBT community has] come. It's been a long fight. We can make a difference if we speak with one voice. It's about coming together and looking at our nation and seeing that everyone should have equal rights. You don't have to be a straight, white Anglo-Saxon to have civil rights. And so that's kind of the way that I've always viewed it. You can't help that you're tall, you can't help if you're short, you can't help what your skin color is.
MW: It's just who you are.
CARTER: Yeah! You look at my son's generation, he's 25 now. When he was a small child, the kids would be in the backseat and he'd say, "Oh, you're so gay!" And I said, "Do you know what that is?" And he said, "Yes, Mom, of course I do." And I said, "You know so-and-so, they're gay. And so-and-so, they're gay, too." "They are?" "Do you like them any less?" "No!"
It really is about parents teaching their children. And it's not an issue for the younger generation, it doesn't seem to be an issue as they become adults. Not with the groups that I know. I know there's still bullying in school.
MW: Actually, you live in a state now, Maryland, that has marriage equality. I'm assuming nothing apocalyptic has happened in your household since then.
CARTER: [Laughs.] That's a great line, I love that! In 10 or 20 years, people are going to say, "What was the big deal about that?" Certainly, I think this generation doesn't care one way or the other.
You're still in Virginia. How bad is it there?
MW: It's really going to depend on what happens in November because we've got the trifecta of far-right, anti-gay, anti-women Republicans running with Ken Cuccinelli. I'm in Falls Church, this really diverse and friendly area, but the rest of the state is possibly going to elect people who want to turn back the clock. It's just so weird. You're in Potomac, and it's just a quick drive for me to go there or into D.C., but it just feels more isolated than ever in Virginia.
CARTER: Yeah, Virginia is the South. One of our best friends grew up gay in the South. I think it's very tough.
MW: Well, Pride season is a time when a lot of young people start taking their first steps out of the closet. Talking to Wonder Woman, I have to ask what super power would you give them to help them as they come out?
CARTER: I could say the lasso of truth, but I don't really think that's it. I know it takes courage.
MW: I think courage for a lot of people is a super power. It's something that people don't necessarily start off with and they have to find it.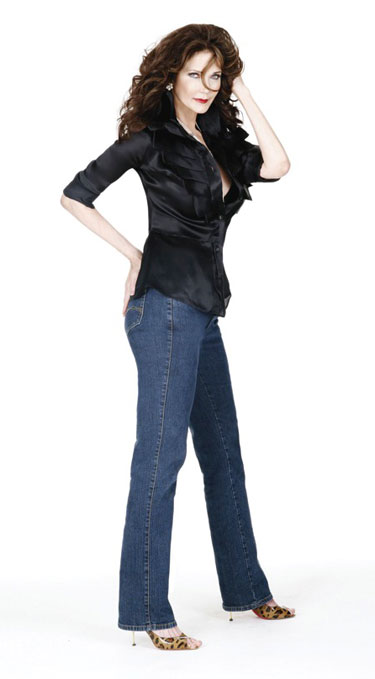 Lynda Carter
(Photo by Karl Simone)
CARTER: I think the main thing is that being gay is just a piece of who you are, it's not all you are. Granted, it encompasses a great deal of your personal life in who you love and how it's accepted. But I think there is still a misconception that being gay means you have to dress a certain way, you have to act a certain way. There are flamboyant gay people and then there are just people who are doctors and lawyers and athletes and such.
MW: You've got Fire Island coming up, I assume that's a gay event?
CARTER: Yeah, Fire Island is totally! And then we're doing this big LGBT thing in Chicago.
MW: Have you ever met a drag queen doing Wonder Woman?
CARTER: Oh, God yes! Oh, I've got some great pictures. Mostly you see them, I bet we will have a zillion of them at the parade. But I want to encourage [everyone to come out].
What I think has meant the most in terms of the regular public, but to see things like Modern Family, some of the TV shows where it's not over the top, it's just regular people. That has changed, I believe, the minds of a lot of people. And I think it's really important for the general population to show up for these things, so that people see that it isn't just some outrageous thing. As much fun as that is!
MW: You've been involved politically on LGBT issues for a long time, but on a more personal level what keeps you wanting to connect with the community?
CARTER: It's a big fan base for me. You know, it is something I feel passionately about, but I also feel a responsibility because of Wonder Woman, because you know I have had the support of this community for a long time, that I feel I owe them something. I've always embraced them, I do embrace them, they've embraced me. It's a mutual respect thing. That's just how I feel.
The Capital Pride Parade is Saturday, June 8. Step off is 4:30 p.m. For a map of the route, please turn to page 42 or visit capitalpride.org.
For more information on Lynda Carter, her album and upcoming tour dates, visit lyndacartersings.com.