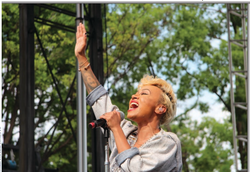 IMP Productions, the entity that owns the 9:30 Club, presents another area show for Emeli Sandé, the incredible Scottish soul singer/songwriter who dazzled as one of this year's Capital Pride headliners. Sandé will hit the grand Meyerhoff Symphony Hall, home to the Baltimore Symphony Orchestra, on October 19 as part of a fall tour through the U.S. Tickets go on sale tomorrow, Aug. 9, at 10 a.m.
In addition to Capital Pride, earlier this year Sandé performed at the White House for a PBS-aired ceremony honoring Carole King with the Library of Congress Gershwin Prize. Her version of King's "Natural Woman" is really quite moving, right up there with her renderings of more current pop songs you might have heard, be it the jazzy orchestral take on Beyonce's "Crazy In Love" as featured on the sophisticated The Great Gatsby Soundtrack, or even more her exquisitely dramatic cover of Coldplay's "Every Teardrop Is A Waterfall," performed for a Dutch radio station. Songs just have a way of becoming that much more powerful after Sandé gets hold of them.
Of course that's also true of the songs she's written herself, including her most recent single, the ballad "My Kind of Love." The sweet video to the song shows her serving as primary caretaker to an ailing, hospitalized best friend. "My Kind of Love" stems from Sandé's Our Version of Events, which won the 2013 Brit Award as British Album of the Year. At a January concert at the Howard Theatre Sandé brought down the house rifling through songs from that strong debut, captivating the crowd with her supple voice, her stirring tunes and her incredible charm and charisma — not to mention her slightly eccentric look. Expect her show at Meyerhoff to be every bit as stunning. She's also likely to preview new songs from her in-the-works second album, tentatively set for release next summer.
And you can bet plenty of gays will be on hand, just as they were at the Howard Theatre months before Pride turned on even more in the community. "It's always been the gay community that really connects first," Sandé told Metro Weekly before the Howard gig. "I have a big gay fan base, which I think is fantastic."
Tickets on sale Friday, Aug. 9, at 10 a.m., for show Saturday, Oct. 19. Joseph Meyerhoff Symphony Hall, 1212 Cathedral St., Baltimore. Tickets are $29.60 to $40. For more information, visit the 9:30 Club's website.