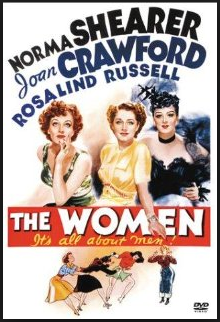 Tonight, the National Theatre kicks off its two-months-long free Monday night screening series "Joan Crawford: Hollywood Star" with George Cukor's 1939 classic The Women. Metro Weekly put the film at No. 6 on last year's list "13 Camp Films Everyone Should See." Our reasoning: "With its machine-gun dialogue and art deco glamour, The Women may be the ur-film of unintentional camp. We're talking about a wronged woman who learns to fight back against the social-climbing salesgirl who stole her husband, giving us Norma Shearer's immortal delivery, "I've had two years to grow claws, Mother — Jungle Red!" — thereby providing a drag queen template for decades to come…Joan Crawford is in full evil temptress mode as the predatory manhunter; Rosalind Russell delivers her rapid-fire patter while wearing a succession of simply fabulous outfits."
This incredibly funny, bitter film — which features a cast of more than 100 women and no men — chiefly criticizes the pampered lives and power struggles of a group of rich women. In other words, the antecedent to today's Real Housewives franchise, which has also provided its fair share of material for drag queens.
The Women screens Monday, Sept. 23, at 6:30 p.m. Helen Hayes Gallery at the National Theatre, 1321 Pennsylvania Ave. NW. Tickets are free, distributed 30 minutes prior to screening. Call 202-783-3372 or visit nationaltheatre.org.