LaShawn Carson, a 29-year-old mother of two young children, was sentenced Thursday to a total of six-and-a-half years in prison on a charge of aggravated assault while armed and related firearms offenses for the 2012 shooting of a gay man at an IHOP restaurant in D.C.'s Columbia Heights neighborhood.
Carson was found guilty at an October 2013 jury trial. Under the terms of her sentence, once she finishes serving her prison term, she will be placed on three years of supervised release.
Under the D.C. Code, the penalty for aggravated assault while armed is up to 15 years in prison.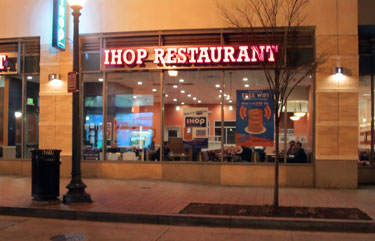 IHOP in Columbia Heights
(File photo/JD Uy)
According to evidence presented at trial, Carson and two of her friends were eating at the IHOP restaurant in the 3100 block of 14th Street NW in the early morning hours of March 11, 2012. Another table of three, including the eventual victim, was seated at another table.
As the gay male victim was attempting to walk to the cash register to pay his bill, Carson and a male friend stood in his way. The victim attempted to squeeze by and bumped into Carson. The two groups became engaged in a verbal altercation, with the male friend uttering homophobic slurs at the victim, at which point, the two men started fighting. An off-duty police detective attempted to break up the fight. Carson then walked over, adjusted her hair, pulled out a gun and shot the victim once. She later claimed that she was under the influence of alcohol when she was at the restaurant, and that she had been carrying the firearm to protect herself, having been raped after a club outing several years earlier.
After the victim was shot, Carson and her friends fled the scene, prompting a nearly two-week investigation by the Metropolitan Police Department. As police searched for Carson, activists staged several protests and demonstrations, including a several-hundred-person march through the Columbia Heights, Park View, U Street and Dupont Circle neighborhoods, aimed at calling attention to the shooting and other anti-LGBT attacks around the city. Carson was arrested on March 26, 2012.
The victim, who survived the shooting, was transported to Washington MedStar Hospital, treated for injuries to his abdomen, and eventually released.