As the Centaur MC's Mid-Atlantic Leather Weekend unfolds, many taking part will have Jim Raymond in their thoughts. A Centaur and a longtime fixture in the community well regarded as a mentor to those exploring the leather lifestyle, Raymond passed away in December.
According to J.P. Halford, who knew Raymomd for more than 20 years, Raymond had been staying with his brother in Norfolk, Va., during his final days, spending the better part of the last year in and out of the hospital.
"He was a big lad, and he had lost a great deal of weight," says Halford. "The last time I saw, him I believe he was in a wheelchair."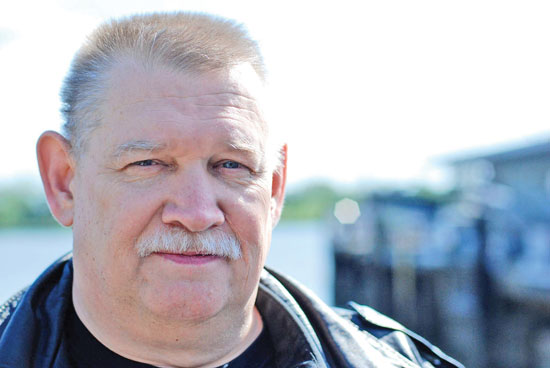 Jim Raymond
(Photo by Todd Franson)
But Halford focuses instead on memories of Raymond as very outgoing and with a "jolly" personality.
David Merrill, a local DJ and party promoter, says he met Raymond soon after moving to Washington 14 years ago.
"Jim was the most generous, giving person with his time that I knew," says Merrill. "He was always there, at every event, every club meeting."
Raymond would come to "CODE" parties, where Merrill serves as DJ, and use the occasion to introduce willing participants to "electroplay." Raymond was also known – and admired by many leather peers – for his expertise in other areas of kink and fetish play, including flogging, rope work and spanking.
"Jim was the first person in the leather community who made me feel welcome," says longtime friend Larry Barat. "He was a mentor to me and to many others, very nurturing, friendly, gentle and respectful. He had this real teddy-bear personality."
Barat adds that it was Raymond who sponsored him into the Centaurs, and who was a trusted friend and mentor during the time Barat served as chair of MAL. Raymond also served as chief organizer and chair of Olympia, a leather/fetish weekend retreat in rural Pennsylvania.
"The news hit us really hard," Todd White, president of Centaur MC, says of Raymond's death. "Everybody's still dealing with it."
White says he has been in contact with Raymond's brother and expects the club to hold a memorial service honoring Raymond in D.C. sometime in the early spring, celebrating Raymond's life and paying tribute to his many contributions to the local leather community.
At the opening of the annual Mr. Mid-Atlantic Leather Contest, White adds, Raymond will be remembered during a moment of silence.
"It's not something we usually do," White says of the special moment, noting that the club wants to keep the overall event positive and lighthearted. "But because Jim was such a big name in the community, we want to honor his involvement with the leather community, which was a major part of his life."