Beverly Wheeler, one of three candidates challenging out gay D.C. Councilmember Jim Graham (D-Ward 1) announced Monday that she is withdrawing from the race and throwing her support to one of her fellow challengers, Brianne Nadeau.
"From the start, this campaign has never been about me, but rather about ensuring that the people of Ward 1 are served by a dedicated, hard-working councilmember," Wheeler, a former ANC commissioner, president and CEO of Center City Public Charter Schools, and member of various local boards and committees, said in a statement. "This is just not the right time for me. Family issues prevent me from putting the time and energy necessary to be competitive."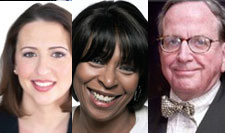 Brianne Nadeau, Beverly Wheeler and Jim Graham
"However, we need a dramatic change in DC Council representation and Brianne has demonstrated over the past year that she is a serious candidate committed to doing the work it takes to strengthen our community," Wheeler continued. "I am proud to announce that I am putting all my support behind her, and calling on Bryan Weaver to do the same. Those of us who want to see change must work together if we are going to bring a new energy to Ward 1."
Wheeler's statement points out the edge that Graham, as an incumbent, has over the rest of the field, as well as a political truism of any race: The wider the pool of challengers, the more likely it is they will split the anti-incumbent vote.
While Nadeau, a former ANC commissioner and former staffer for U.S. Rep. Paul Sarbanes (D-Md.) and Weaver – who has twice run for a seat on the D.C. Council, earning 21 percent of the vote against Graham in 2010 – have called attention to what they characterize as ethical lapses, including actions that resulted in Graham being formally reprimanded by his D.C. Council colleagues, it remains to be seen whether they can gain traction among voters, or whether a smaller field of challengers will provide Graham with his first truly competitive race since his election to the D.C. Council in 1998. Both Nadeau and Weaver will also likely struggle to win over LGBT voters, whose near-universal support has historically enabled Graham to win by large margins.
According to campaign finance reports filed with the D.C. Office of Campaign Finance for the period from Oct. 11 to Dec. 10, 2013, Weaver raised $11,482 and has $37,725 on hand. During the same period, Nadeau raised $15,578 and finished with $66,413. In an email to Metro Weekly, Nadeau's communications director, Tom Fazzini, reported that she has raised more than $100,000 since first beginning her campaign against Graham – information that will be included in her upcoming Jan. 31 campaign filing.
Fazzini also said that the donor who helped the campaign reach that threshold was former Ward 6 Councilmember Sharon Ambrose (D), who was first elected in 1997 and served with Graham on the Council from 1999 to 2007.