Center stage is quite possibly the last place you'll find Chris Svoboda. While she's had a hand in multiple efforts over the years, she's made sure not to be the face of any of them. Her activism has been on the quiet side.
"I have a family member that said, 'Why are you such a flag-waver?'" Svoboda says with a laugh. "I'm thinking, 'I am not a flag-waver at all, honey. You have not seen a flag-waver.'"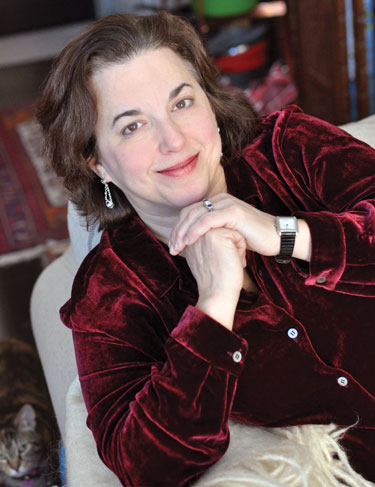 Chris Svoboda
(Photo by Todd Franson)
Still, the 51-year-old Svoboda, born in D.C., raised in Richmond, and still dividing her time between the two, is deeply involved. She points to her Catholic upbringing, though not identifying as Catholic herself, for her benevolent values. Her parents, who actually met on Capitol Hill where her father helped to support his medical studies by working as an elevator operator and her mother worked for Connecticut's Sen. Thomas Dodd, raised her to value service to others.
"It's giving back," she says. "That was the lesson taught to me in life: You were given so much that you need to give back."
One very recent expression of that is her work on a short film, Russia Declares Discrimination Newest Olympic Sport, a challenge to all nations with anti-LGBT laws. Since its early February debut, it's racked up nearly a million views. She's also a co-chair for the Mautner Project's annual gala, this Saturday, March 8. Activism like that makes it hard to stay in the shadows.
Sitting in her D.C. home, her cat Simba nearby, as well as several musical instruments, Svoboda seems comfortable opening up about her story. She's somewhat guarded about a few topics, but graciously so. Pulling back the curtain to offer a peek behind the scenes doesn't even make her wince. So take a look, because there's a lot happening.
METRO WEEKLY: I know so little about your background. Let's start with what you studied.
CHRIS SVOBODA: My undergraduate degree was a mathematics/computer-science major. Later, I went to Rutgers for law school, contracts. I've been a technology and science geek from a very young age. I was into computers when I was in high school, the late '70s.
MW: You must have a favorite Star Trek character.
SVOBODA: Hmm. No. You'd think I'd be into that. And Dungeons & Dragons.
MW: You got the science, but not the nerdy?
SVOBODA: I got the other nerdy stuff. Building computers and soldering things. Both my grandfather and my father worked with their hands and I learned how to repair things. When I'd break a window with a baseball growing up, it was a life lesson. [Laughs.] My dad would teach us how to change the pane in the window, how to do the points and all the stuff you need to do. We'd get in trouble, but we'd be taught the lesson on how to fix something. So my brother, my sister, myself, we can change tires and do plumbing repairs. We can do all sorts of stuff.
MW: While your father was practicing medicine, what did your mother do in Richmond?
SVOBODA: Interior decorating. She was also very involved in volunteerism. It was always about giving back. I grew up in a Catholic family, church every Sunday. Later in life, my dad started to go to church every morning, Mass seven days a week. It was always a life of service.
My mother had the little social groups that she belonged to, but they were all involved in service projects. We would go along with mom when she would go to the Virginia Home, which was a public facility for people with paralysis, quadriplegics, people with debilitating diseases and whatnot. We learned at a very early age the importance of being involved and how everything that you did could change and touch a life. It was a behind-the-scenes thing. I think that's why I've always been very comfortable not being in the limelight. That, coupled with living a life — 50 percent of my life was pretty much lived in the closet.
MW: And "pride" is a sin.
SVOBODA: The way I was raised, it wasn't to be a "boastful" life. It was to be a life of service. You did things behind the scenes and you didn't call attention to yourself. I was also taught to stand up for what you believe in.
MW: You said you were closeted. Do identify as a lesbian? Queer? Bisexual?
SVOBODA: I identify as a gay man trapped in a lesbian's body. [Laughs.] I am the lesbian Martha Stewart. All my gay guy and straight women friends want me to come over to fix stuff. I don't know how to explain it. I'm probably one of the few lesbians who knows "passementerie."
MW: Passementerie?
SVOBODA: Oh, my God. Are you really a gay guy? Passementerie is all the fringe and the trimmings on your curtains. All the tassels, the silk-woven tape, all that. I got that from my mom. I love interior design. I love decorating with flowers. I love crafts.
MW: Did you have a sort of coming out?
SVOBODA: Yeah, it was called a debutante ball! We grew up in a world where it was a derogatory thing. Luckily, you could be hidden and no one would know. I was very social, but it wasn't the social life I wanted to have. I grew up in a heterosexual world and I wanted to fit in. When I left, I was able to live my life — but I still had a foot at home. It took a long time to reconcile that.