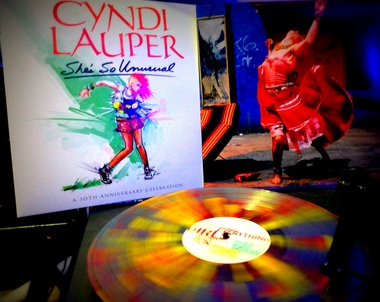 If anybody had told me when I was 12 years old and listening to Cyndi Lauper's She's So Unusual incessantly on my bedroom turntable that I'd still be playing it on vinyl 30 years later, I suspect I would have just laughed incredulously. After all, to a 12-year old, 30 years is an eternity — an unimaginably vast expanse of time. Then as you grow older and each year flies by quicker than the one before, all of a sudden you look back and realize with amazement that three decades have passed and in many ways not much has changed. She's So Unusual is still one of the best pop albums ever released, and it still sounds great to blast on a turntable, whether you're 12 or 42 or 82. Great music is timeless and ageless. The period of 1983/84 was one of tremendous excitement in music and pop culture in general, with the ascension of MTV and a whole new range of styles and sounds that American audiences would never have otherwise encountered. She's So Unusual inhabits that era perpetually and encapsulates its excitement; it's a nostalgic trip headlong into the heart of the early MTV era and allows us to relive that golden period again, however briefly. Such is the gift of music.
She's So Unusual holds up incredibly well three decades since its release, and is even better now that Cyndi has issued a remastered 30th anniversary deluxe edition. Released this week, it features a multi-colored vinyl edition as pictured here, as well as CD and digital versions which contain multiple bonus tracks (including the outstanding B-side "Right Track, Wrong Train"). The sound quality is marvelous and the packaging is as colorful as Cyndi is herself, and of course so is the music.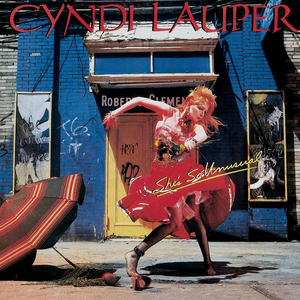 Her first solo album after leaving her former band Blue Angel, She's So Unusual hit stores on October 14, 1983. The timing for its original release could not have been more perfect. Cyndi Lauper, with her charming and endearingly goofy persona and her colorful, often outrageously inventive fashion and style, was a perfect match for MTV. She had the look, she most definitely had the voice, and with She's So Unusual she had the killer singles, which she turned into classic videos. Lauper is one of the most iconic figures in '80s music, and the biggest reason for that is She's So Unusual.
The lead single, released a month prior to the album, was a cover of Robert Hazard's 1979 recording "Girls Just Want to Have Fun." The original is an edgy rocker with a raw, almost punkish vibe. Cyndi Lauper's version is a party anthem, fun and just a wee bit kooky. Buoyed by a video that introduced her colorful personality and powerhouse voice to the world, "Girls Just Want to Have Fun" became a smash on MTV and radio, rising all the way to #2 on the Billboard Hot 100 singles chart. Cyndi and producer Rick Chertoff's transformation of the song from the hard rocking original to an irresistible pop confection is nothing short of genius. "Girls Just Want To Have Fun" is one of those handful of key mega-hits that help to define an era. It was nominated for six MTV Video Music Awards and two Grammies. Notable for its bubbly synths and Cyndi's spot-on perfect vocal delivery, "Girls Just Want to Have Fun" is still guaranteed to get a room full of people dancing, singing and having a great time, just like 30 years ago when it was blazing all over the radio and MTV airwaves almost non-stop.
There was an undeniable novelty factor to Cyndi Lauper and her quirky persona, but fortunately she had the talent and She's So Unusual had the material to ensure she wasn't a one-hit-wonder. Co-written by Cyndi and Robert Hyman of The Hooters (he and bandmate Eric Bazilian were key contributors on the album), the second single, the beautiful and bittersweet ballad "Time After Time," was released in January, 1984. Thanks in part to a poignant video that received heavy play on MTV, "Time After Time" rocketed to #1 in America, becoming the first of two chart-toppers for Cyndi Lauper (another classic ballad, "True Colors," hit the top in 1986). With "Time After Time," Cyndi was able to show her serious side, which would become more prevalent as her career progressed. Only a few months after her debut solo album's release Cyndi already had two smash singles under her belt, and she was just getting started.
"She Bop," an upbeat new-wave rocker with a wonderfully zany video, became the third single during the summer of '84, and it rose all the way to #3. Nowadays a song about masturbation would barely cause a single pearl to be clutched, but at the time the subject matter was considered racy: "They say I better get a chaperon, because I can't stop messin' with the danger zone. Hey I won't worry, and I won't fret, ain't no law against it yet." Fortunately for the collective sanity of all humanity, 30 years later there still ain't no law against it, so keep on boppin' away. With its mix of an aggressive guitar riff, bright synths and terrific melody, "She Bop" was gonna be a hit despite any misgivings about its subject matter, and it remains a party favorite today. Cyndi's vocal delivery, with the little bits of laughter and the idiosyncratic little catches in her voice at just the right moments, is spot-on perfect.
Another smash followed in the form of "All Through the Night," a cover of a track originally recorded by singer/songwriter Jules Shear for his 1983 album Watch Dog. The original was mostly performed on acoustic guitars, with a brief piano solo, but for the cover Cyndi and producer Rick Chertoff use heavily layered synthesizers to beautiful effect. As with "Girls Just Want To Have Fun," they once again transform a good song into something timeless. Notable for its lovely descending keyboard pattern, beautiful harmonies and Cyndi's outstanding vocal performance, "All Through the Night" charmed its way to #5 on the Billboard Hot 100. The fact that it became a smash hit without the benefit of a music video, unusual in an era in which artists relied heavily on MTV, is a testament to the strength of the recording. Like the rest of the album, it's wonderfully produced by Rick Chertoff. She's So Unusual is sometimes regarded as a lightweight pop album without much substance — anybody who believes that has not given it a close listen. It's fun and catchy, yeah, but it's also carefully and superbly crafted, and there is no better example of that than "All Through the Night."
The fifth and final hit from She's So Unusual was yet another cover — this time it was a 1980 single by Atlanta-based rockers The Brains. "Money Changes Everything" is the album's opener, and the track which rocks the hardest. It features a memorable melodica solo by Rob Hyman (the "hooter" referred to in his band's name), and vibrant waves of synthesizers backed by a heavy rock beat. Cyndi used a live recording of the song for the single and video, and it peaked at #27 on the Billboard Hot 100.
Although the five singles are certainly the tracks for which She's So Unusual is most remembered, the rest of the songs are far from throwaways. Each of them could arguably have been singles and potential hits — the album has zero weak links. Cyndi's terrific cover of Prince's "When You Were Mine," a piece of classic stripped down funk/pop from his 1980 album Dirty Mind, is awash with synthesizers and features an double-tracked vocal that works well (although this is the one instance in which the original version is superior to Cyndi's cover — but that speaks more to the greatness of Prince's classic recording than to Cyndi's interpretation). "Witness," a rock/reggae hybrid which musically sounds vaguely like The Police, is another stellar recording that surely would have been embraced by radio had it been a single. "I'll Kiss You," co-written with Jules Shear, is a spiky new wave number with a terrific high-energy vocal by Cyndi. The album's finale is "Yeah Yeah," a cover of a single by Swedish singer/songwriter Mikael Rickfors from his 1981 album Tender Turns Tuff. Cyndi takes his fairly straightforward rocker and gives it a bit of a ska vibe; the final result sounds like something from an early B-52's album with a touch of Madness thrown in for flavor. Like the rest of the album, it's infused with Cyndi Lauper's infectious and energetic personality.
She's So Unusual… never has an album title been more fitting. That would have been true as well had it been called "She's So Talented," as beneath the goofy persona, the wild fashions and hair colors, Cyndi Lauper is an intuitive and powerful vocalist with a knack for taking material that is good and making it great. The rest of us may have aged in the past 30 years, but She's So Unusual hasn't — and playing it today, it still has the power to make ya smile, sing along, and generally feel young no matter how old you might be. Cyndi and producer Rick Chertoff, who's worked on countless hits for a wide range of artists, stitched together a deft mix of rock, pop and new wave from a wide range of source material, and Cyndi's vocals and personality are strong enough to tie it all together. Even the cover is perfect — the iconic image, shot by famed photographer Annie Leibovitz, captures Cyndi's boundless energy and strong individuality. She's So Unusual remains the most successful album of Cyndi's career, reaching #4 on the Billboard Top 200 album chart and selling in excess of 6 million copies in the U.S. alone.
Cyndi Lauper has, of course, enjoyed a long and accomplished career, and has been a vocal and supportive LGBT advocate. She is currently in the midst of a successful tour celebrating She's So Unusual's anniversary. While she doesn't have any D.C. dates on the immediate horizon, she will be in Philadelphia on April 28.  But even if you don't get the chance to see her live, the new reissue of her signature album is an essential purchase — especially if you still have that original well-worn vinyl copy that you played endlessly in your bedroom three decades ago.