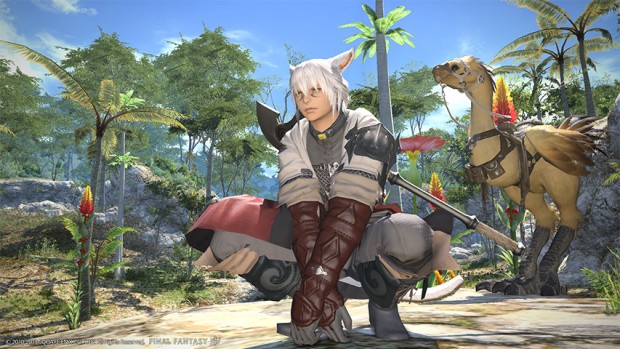 Square Enix confirmed at E3 in L.A. that Final Fantasy XIV: A Realm Reborn will include the option for same-sex marriage in its 2.4 patch, reports Kotaku.
Naokie Yoshida, the game's director and producer, addressed the issue during a livestream at the E3 gaming expo, speaking through a translator regarding the content of the update. Said Yoshida: "People within Eorzea will be able to pledge their eternal love and/or friendship in a ceremony of eternal bonding. And this will be open to people regardless of race, creed, and gender." The move is sure to please gaymers who love Square Enix's fantasy JRPG series. "Two players, if they want to be together, in Eorzea, they can through this eternal bonding ceremony," he added.
Though Japanese culture is traditionally more conservative — Nintendo received widespread criticism for failing to include same-sex in social simulator Tomodachi Life, which was released in Japan then ported to Western markets — Yoshida claims that the decision to finally include gay relationships was an easy one. "We discussed it," he said, "and we realized: within Eorzea, why should there be restrictions on who pledges their love or friendship to each other? And so we decided to go this way."
The decision to include same-sex relationships certainly took its time reaching this conclusion. Back in 2012, Square Enix stated that, while heterosexual and inter-special marriage were okay, same-sex marriage would have to wait until proper feedback from the gaming community had been assessed. "As for same-sex marriage, this is an extremely controversial topic that has been under discussion in the MMO world for the past few years," the company said in a statement. "First we would like to start out with opposite-sex marriage, and then consider the feedback from our players in order to make a careful decision. I can't say whether or not it will be possible at this point in time. I'd like to keep dialog open with our players as we deliberate the matter."
Evidently that feedback affected all types of marriage, as it has yet to be implemented in the game in any form. The 2.4 update opens the door for relationships and marriages for everyone. Those players looking to add a bit more same-sex realness to the world of Hydaelyn have to wait a little longer, as no official release date for the 2.4 patch was announced.
We analysed the current state of LGBT gaming in October last year, including its past, present and what the hopes are for greater LGBT representation in the future. Read the full article here.
The full livestream from Square Enix is below, but feel free to skip to 2:28:36 for the relevant portion.
Image Credit: Square Enix