Environs
Rick and Peter's waterfront home in Fort Washington, MD
| | | |
| --- | --- | --- |
| | Birds of a feather flock together in this 5 BR, 2 BA riverfront home in Fort Washington, Md. Forget the Beltway -- leave your car behind and live the life of fast and easy aquatic transportation. | |
Realtor Rick Quinones and landscape architect Peter Dicken always wanted to own a home near water, so when they recognized their beautiful riverfront home in Fort Washington as their ideal sanctuary. They just have to share it with a few hundred birds.
Rick: We were living in Alexandria before this.
Peter: We decided we would not move until we found a house on the water -- since we were young, both of us have wanted to live on the water. Rick is actually a champion swimmer, so the water was a very big part of his life. We found out about this area in an article in the Washington Post about the National Harbor. Rick's sister called him and said, "This article looks interesting. Maybe this is the time for you all to buy a piece of the waterfront before the prices go up." I was on a trip to a convention in Florida and Rick called me and said, "What do you think?" I said, "Do it, just do it. It doesn't matter what you get, just get it." Then Rick called back and said he had found this place that was in our price range -- "the house needs a lot of work but the property is magnificent." I said, "Buy it."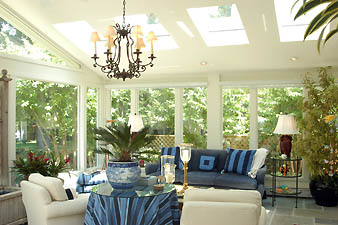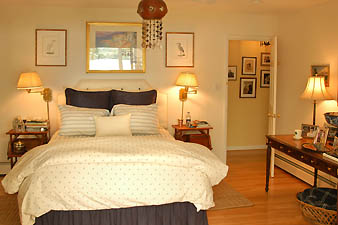 [In the sunroom] What I like about this room is that I was able to integrate the room into the landscape. Outside you have the flagstone that wraps around the house and then it comes inside the house. When you're walking inside there is this very smooth transition. It makes the house not insular but very involved with the landscape. The whole idea behind the furnishings is to feel like you were on a boat. You have the blue and white theme that echoes the water -- I wanted to bring the water inside just like the flagstone.
[In the master bedroom] These are watercolors of a blue heron and a white egret, which we often see in our backyard. This area is actually a bird sanctuary. Throughout the year, especially in the fall and the winter, migratory birds come through and they land here for a rest. We have some friends that are bird fans that say they see birds here that they don't see anywhere else in the area.
Rick: When we first got here he wanted to buy a pair of swans.
Peter: I thought it would be wonderful to have swans here. We didn't have time to follow through on it, but during the winter this whole little inlet was covered with artic swans. This happens to be where the swans stay in the winter. You'll see hundreds of these swans living here.
Rick: They're really pretty.
Peter: It's really a fascinating location on the river.
Rick: [In the guest room] We got the dogs about three years ago.
Peter: I was trying to buy a Bernese Mountain Dog, which are huge. Rick found out through one of my secretaries that I was about to buy a puppy, so he went and bought me Sabina, who is a Pomeranian and much smaller. He didn't want a big dog. We went to find another puppy to keep Sabina company and found Sasha, who was actually a breeding dog. We fell in love with her but the owner did not want to sell her. I went back and she still wouldn't sell her. I went back a third time and she relented -- she thought the dog was going to be in a happy home because we really wanted her. They love each other. It's interesting -- Sasha follows Rick everywhere and Sabina follows me everywhere.
Rick: [In the back yard] Obviously the water was a big attraction for us and when I saw the dock I said, "We've got to get this." In the summertime we take our boat to Old Town because neither one of us cooks -- we go out to eat every day.
Peter: In the summer we use the boat just a like a car. It is actually faster to use the boat. Dock to dock is fifteen minutes. We are usually in a restaurant in twenty minutes.
Rick: We started to feel at home here immediately. Peter has a very creative eye and he wanted to fix it up. For me, I had the water right there so I was in business. I didn't need to do anything to it.
Peter: We knew we would be here for a lifetime. We wouldn't sell this house. We'll never leave the water.
---