Environs
Clarendon, VA is home for GWM couple and some oddball architecture.
| | | |
| --- | --- | --- |
| | Unclassifiable in Arlington! This 4 BR, 3 BA (plus 2 half baths), single family home has its unique niche among the condo canyons of Clarendon, where it plays home for a GWM couple, their roommates, and a playful pooch. It's at least three homes in one! | |
When Mike Mancini moved into this sprawling home in Clarendon in 1998, he was a little hesitant upon seeing the haphazard additions. But odd hallways, disconnected upstairs areas, and a surprising au pair suite gave the house undeniable charm. Recently joined by his partner Mike McMurtrie, the couple shares their space with three roommates and Roscoe the dog.
Mancini: What's interesting about this house is that the front half was built in 1929 and then the back half was apparently added on in 1986 by a Cuban architect. As you walk through the house you'll probably realize that he was not quite accustomed to American building standards. I remember walking through and laughing because it was such an oddball house. It has three staircases that don't connect. The upstairs in front doesn't connect with the upstairs in back. And the previous owners really had a fetish for mauve. It was very quirky. My former partner Scott [Brooks] really liked it because of that quirkiness. I was a little reluctant but it turned out to be a great investment given the area. We have a nickname for the house: Halphass Manor, with an English spelling. Because as you're looking around or doing repair work, you think "This was done in such a half-assed manner."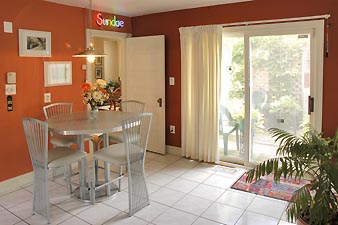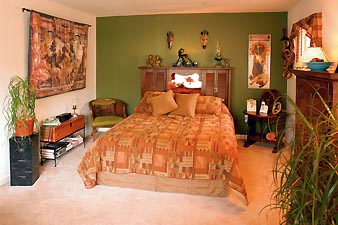 [In the living room] This was once the more formal family room. When my former partner and I separated I was redecorating and wanted to get some color in here. Some friends of mine actually had done their living room in yellow. I like yellow but I hadn't thought of that before so I thought it would be good to try. I did the darker yellow there and a lighter yellow on the other wall. Living rooms are often the room nobody uses, but it looks good. What's the point of it? How can you make it useful? So this was a great place to put the desk, facing out into the room rather than pushed into a corner.
| | |
| --- | --- |
| | |
[In the family room] This is the Grand Salon. The house may be quirky looking from the outside, but it's a lot of space, especially for Arlington, and to have this modern California-style family room is pretty odd. We spend a lot of time in here. There's the hook in the ceiling for the disco ball -- the motor can plug into the track lighting. Whip up a party and move the furniture back, and you've got a little dance floor. The hallway there isn't the most efficient layout, but it creates a nice balcony where we can have drag shows. This is a great entertainment house, and we do like to entertain. We always have a big-ass New Year's Eve party. All your readers are invited.
McMurtrie: Not really. [Laughs.]
Mancini: [In the master bedroom] This is a good-sized room, although it's odd that it has this big-ass picture window in it. That chair is Roscoe's favorite spot -- he can see the whole neighborhood from there. It's an odd-shaped room to deal with, which limits where you can put furniture, but it works well. We recently traded in the waterbed for a regular bed, but the headboard is left over from the waterbed. I made it when I was in college and living at home. I knew if I made it mom would relent and let me have a waterbed -- and it worked. But it was time to give up the waterbed.
McMurtrie: But it wasn't too bad, unless the other person was getting in and out, or tossing and turning. And when Roscoe jumped on the bed, hold on to the rails because someone's going over.
Mancini: We were going to get new bedroom furniture but decided instead to do the living room and the desk there. The computer desk in here was just too crowded, and you were away from everyone else in the house. It's nice to be downstairs and not cloistering yourself away to go pay bills and such.
McMurtrie: Plus, who wants to work in a love den? [laughs]
Mancini: I wanted to have a bedroom that was a little more masculine, which is hard to find. When you look for bedding it's all flowers and foofy and lacy. It was really a challenge when we were shopping for a new comforter.
[In the back yard] This tree must have had a termite problem once, but it greens out really nice and the hollow is a perfect place for the Madonna. And this is a little garden for my cat who has passed away. It all lights up at night. The back wall is actually not a fence, but the back of a building, which will be torn down next spring to build more condominiums.
Mike and I did the patio here. This is a gas fireplace with ceramic logs. Originally, I had a gas line put in for a gas grill, but then when we finished the deck it didn't make sense to have a grill in it. But the fireplace is the perfect thing on a fall day or early spring -- you can sit out here with a bit of a fire and no fuss, no mess. It looks amazingly real at night.
Does your house, condo or apartment have a story to tell? Let Environs know about it. E-mail environs@metroweekly.com. To see more photographs from this week's featured space, visit us online at www.metroweekly.com/home.
---