Environs
Henry's apartment in the U Street / Dupont area of DC
SQUAT IN STYLE! Temp 1BR home incl. bar, view, tasteful furnishings. Newly installed gym, HBO make this a stellar space for working from home. Steps from Dupont, U Street. Occupant is GM in transition from corporate crash to indie lifestyle.
For a temporary home, Henry Salevsky's apartment is nothing less than refugee chic. Built in the 1920s, The Wyndemere-Harragut was used as temporary housing for nurses during World War II. Today, it is currently undergoing a luxurization conversion.
HENRY [in living room]: I sold my condo on Q Street and bought a place at Lofts 14, but they're not going to be ready until, like, September 2004. They're saying summer, so I'm saying fall. This place is temporary. I've been here since November, when I moved from 1525 Q Street, The Normandy, across from the Jewish Community Center. I'm slowly trying to make it a home. I have a dining set with no chairs. This is mostly Restoration Hardware, and some Pottery Barn, Crate & Barrel. And this [bar set] I got from Hold Everything, through the catalog. I don't do as much entertaining here as I used to at my condo, but we like to watch Six Feet Under on Sundays and drink some martinis. Clair's boyfriend having sex with that professor, I knew it was coming. He's kind of strange, the boyfriend. She's always getting involved with strange ones. I absolutely love her.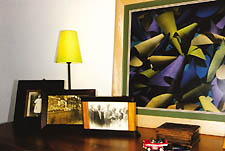 [In bathroom] I've got a thing for Jeff Code black and whites. I've never met him, but I know some of the guys who've been photographed by him. This one's a bartender at 30 Degrees. For some reason, I have a thing for pictures of guys in black and white standing in water hanging in the bathroom.
[In bedroom] And these pictures are from Provincetown. It's a dream I have, to own a place up there one day. Maybe retire there eventually. It's beautiful, and you've got Boston right there if you're in the mood for something urban. I usually go up with friends, every year we rent a house for a week. The rates are pretty reasonable -- for a week, six people, 350 each. It's like a hotel in New York for one night.
| | |
| --- | --- |
| | |
I think this place is a little expensive. They're redoing the whole building, and I think with time this is going to become a really nice semi-luxury apartment building. It's still sort of mixed because there are people who were living here when they redid it and they couldn't just kick them out. They gave them incentives to leave, they paid people. Those who stayed, their apartments are still old, the building can only redo them as people move out. But those apartments are rent controlled. Even though they're older, the residents still get all the perks, like the new gym downstairs.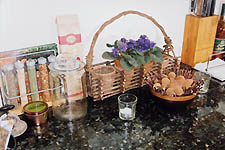 It's a nice little workout area, with a few machines and a TV, but I think I'll keep going to Results. I'm getting my D.C. real estate license, so I'll be working from home, and sometimes if I really don't want to go out I'll use it [the gym]. I want a little more control over my life. I was one of those corporate layoff people last year. I'm a real extrovert and I miss the socialization of the office. One of the hardest things I went through after being laid off was losing my built-in daytime socialization. But I teach part time at the GW business school. Adjunct professor, they call it. And it's a pretty good-sized bedroom, I'll be able to work from here. I'm so used to living on a ground floor that it's really just nice to finally have a view.
---