Awaiting the Grand Gesture
With the White House not answering direct questions about marriage and DOMA, all Americans are left waiting

In the coming weeks and months, the Obama administration, through the Department of Justice, will face multiple decisions about whether and how to appeal trial court decisions in cases striking down the federal definition of marriage and the military's ''Don't Ask, Don't Tell'' policy.
Since its court filing in June 2009 supporting the Defense of Marriage Act in a lawsuit, the administration has been on the defensive about its legal posture in cases addressing LGBT issues. Despite statements supporting the end of DADT in the president's State of the Union address, Human Rights Campaign President Joe Solmonese – whose group issued a statement strongly opposing language in that 2009 DOMA brief – says people are looking for more from President Barack Obama.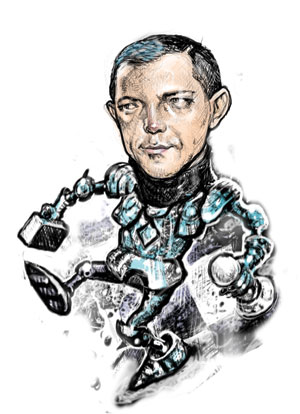 Joe Solmonese
(Photo by Scott Brooks)
Talking with Solmonese about the challenges ahead for LGBT equality, the leader of the nation's largest LGBT organization evokes the memory of President Abraham Lincoln in enunciating his view of what's been missing from the Obama administration.
''If for the American people to get a sense of what is important to this president comes down to what they used to call, what I think Lincoln used to call 'the grand gesture,''' Solmonese says, ''then I think the president could do quite a bit more on reassuring the LGBT community – and the American people – that these issues are important to him.''
Since a July 1 LGBT media briefing with White House Domestic Policy Adviser Melody Barnes, Metro Weekly has been seeking an answer as to the president's view about the constitutionality of DOMA and DADT.
Most recently, Metro Weekly requested on Sept. 10 an answer to the following question: ''President Obama has said repeatedly that he thinks 'Don't Ask, Don't Tell' and the Defense of Marriage Act are discriminatory laws. Federal judges have agreed and gone further, striking down the laws – in whole or in part – as violations of First Amendment, equal protection or due process guarantees. Does he – a constitutional scholar – agree with those judges?''
On Oct. 1, White House spokesman Shin Inouye wrote a response: ''Since many of these cases involve ongoing litigation, we refer you to the Justice Department on how they will proceed. The Administration will continue to review these cases and respond appropriately to developments in the law. The President also continues to work with Congress to achieve a legislative repeal of Don't Ask, Don't Tell, and continues to support a legislative repeal of DOMA.''
Metro Weekly on Sept. 10 also asked, ''Where – in the changed realities of September 2010 – does [Obama] personally stand on same-sex marriage?''
Inouye answered, ''The President is committed to treating LGBT Americans with dignity and respect, supports full federal rights for LGBT couples and opposes divisive measures like Proposition 8. He will continue to pay close attention to developments in the federal courts regarding same-sex marriage. In addition to his support for a legislative repeal of DOMA, he supports the Domestic Partnership Benefits and Obligations Act, and his Administration has taken steps to expand access to rights.''
Inouye went on to detail the 2009 presidential memorandum ''calling upon the federal agencies'' to identify benefits to be extended to same-sex partners of federal employees and the 2010 memorandum directing the secretary of the Department of Health and Human Services ''to ensure that those hospitals that receive Medicare and Medicaid funds'' not discriminate against ''gay and lesbian patients and their families.''
The White House had not clarified by press time whether Obama believes DADT or DOMA are unconstitutional or where Obama stands on the question of same-sex marriage.
Looking at the position of the Justice Department – which Obama has said is to defend even those laws with which he disagrees – and the administration more broadly, Solmonese says, ''We can debate what is said in the Justice Department's reaction to [the DOMA challenge] until we're tied up in knots, but … I think that what LGBT community is looking for … is something, some message from the president about what he thinks about whether or not people living in states where they can get married ought to be getting federal benefits.
''I think that's important, and I think that's, quite honestly, something that's been missing.''
---