View from the Hill
Out Hill lawmakers have differing views on Get Equal's congressional protests

On April 21, Rep. Barney Frank (D-Mass.) called Get Equal's protest of a hearing held by House Education and Labor Committee Chairman George Miller (D-Calif.) aimed at getting a committee vote on the Employment Non-Discrimination Act ''stupid,'' ''immature'' and ''tacky.''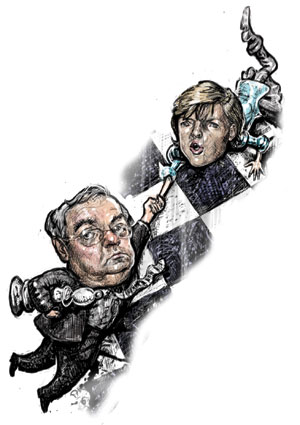 Barney Frank and Tammy Baldwin
(Illustration by Scott Brooks)
At the time, Frank asked, ''How does this help us get the bill passed? Whose mind are they going to change?''
Just days earlier, Frank – the longest-serving out lawmaker in Congress – had said that ENDA would be voted on in the committee ''this week or next'' – but Get Equal's co-founder, Robin McGehee, responded to Frank, saying, ''Prove us wrong, and make it happen.''
It still hasn't happened, and Congress is out for recess until after the midterm elections.
On Sept. 28, Rep. Jared Polis (D-Colo.), the out, first-term lawmaker who sits on the committee, said he was ''still hopeful that there'll be an ENDA vote in December.''
He added, though, of the LGBT advocacy that had gone on in the past two years, ''It would have been helpful if the organizations had been able to secure a commitment to have a vote last year, early in the term. I think that would have provided additional momentum.''
Despite that, Polis – who was in the committee hearing the day of the Get Equal protest – questions actions targeting members of Congress who support LGBT equality.
''The barrier is not Democrats who support these measures, so I don't think it accomplishes much to protest George Miller or me or [Rep.] Tammy Baldwin (D-Wisc.). There are conservative Democrats who don't support these measures and Republicans who don't support these measures, and I think not returning them to office would be the ideal way of assuring that our agenda passes. Certainly, secondarily, protesting them … might be effective.''
Unlike Polis and Frank, however, Baldwin – who was first elected to Congress in 1998 – said she saw the protests and impatience differently.
''[T]he organizations that are out there really organizing at the grassroots and making sure that our movement is still impatient for change – that that is constructive in my mind,'' she said at the Victory Fund's Gay and Lesbian Leadership Awards on Sept. 29. ''And I know that there's a difference of opinion among other officeholders who don't want everyone saying, 'I want this yesterday.'
''I just have to say, as well as being a member of Congress, I'm also a lesbian, and I want my equality now. I want it yesterday.''
---