Blown Up
Rich Morel & Bob Mould celebrate a decade of beer, bears and Blowoff beats
"We are like two peas in a pod."
Bob Mould wrote these words of his friend and colleague, Rich Morel, in his 2011 autobiography, See a Little Light. ''Rich and I hit it off right away, talking so easily and enthusiastically about gear, music and life.''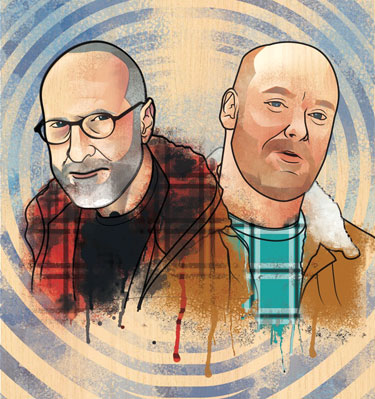 Bob Mould and Rich Morel
(Photo by Illustration by Linas Garsys)
The two were introduced in early 2002, at a party in New York celebrating the release of Queen of the Highway, the disco-rock record from Morel's eponymous band. Partly as a result of their strong, instant connection, Mould would soon resettle in D.C. and start working on music with Morel. Less than a year later, the two started Blowoff, a name that nods to Mould's earlier career as a writer for pro-wrestling but has since taken on a meaning all its own. The party was simply intended as a creative and social outlet for the duo, nothing more, yet it has become a nationally known event that attracts all kinds of people, but especially bears. The husky, hirsute types often dance shirtless to alternating sets of house music and indie-rock by Mould and Morel, who essentially taught themselves how to DJ for the party, which Mould playfully calls a ''gay bear disco.''
Besides its no-attitude vibe and slightly off-the-beaten-path music, Blowoff also stands out for its live visuals and videos, courtesy of Nick Lopata, and for its animated drawings and posters of manly, muscular men by Linas Garsys. ''It was very much like a '40s Russian propaganda poster,'' Morel says of Garsys's artwork. ''They were absolutely gorgeous, right from the very first one up to this day.''
Since 2006, the party has touched down in cities across the country, from Atlanta to Dallas to San Francisco, where the 52-year-old Mould has lived for the past few years. This year alone the duo will take Blowoff to New York, Chicago and Provincetown, Mass. But D.C. remains home. ''That's been a great home,'' says Mould of the 9:30 Club. ''Everybody over at that club has been good to us all these years.''
All that Blowoff travel has to be juggled with the demands of the musicians' solo careers, which are each arguably as hot now as they have ever been. Over the past year, Mould, the lead singer of seminal '80s punk band Hüsker Dü as well as popular '90s post-punk group Sugar, has taken network television by storm in support of last year's album Silver Age. He's performed on David Letterman's and Conan O'Brien's late-night talk shows, and will add Jimmy Fallon's show to his roster later this month. (Also, his song ''Dog on Fire,'' performed by They Might Be Giants, is the theme song to The Daily Show with Jon Stewart.) Mould is also finalizing plans to once again hit the summer festival circuits in the U.S. and Europe.
Morel, meanwhile, is gearing up to tour with his new rock band Deathfix in support of a strong, self-titled debut, due Feb. 26 on storied D.C. punk label Dischord. Among other dance remix and production work, Morel, 50, who has produced with the old D.C. dance dynamo Deep Dish a decade ago and Cyndi Lauper in recent years, has also returned to the top of Billboard's Dance/Club Play Songs chart with his Pink Noise remix of Kerli's ''The Lucky Ones.'' And in addition to Blowoff, Morel throws and spins for another semi-regular D.C. and Baltimore party called Hot Sauce.
Last week, just a few days after the actual 10th anniversary of Blowoff – Jan. 26, 2003 – the two reflected on the party's success and its impact on their lives, and gay and club culture in general.
METRO WEEKLY: You didn't set out to create a behemoth when you started Blowoff at Velvet Lounge in 2003.
RICH MOREL: Bob presented the idea of DJ'ing a party event in D.C. Which was a good idea, because at that point I was really a studio rat. I was always just working on music. I lived in this town for 10 years and really didn't know anybody.
BOB MOULD: I remember saying to Rich, ''I don't know anybody here. It'd be nice to meet people and get out and play music.'' I remember the first Blowoff. We went to a party-rental place and got folding chairs. Are people going to want to sit? Are people going to want to dance? What are we doing? We had laptops, we had a DJ rig. I had never DJ'ed – beat-matching DJ'ed – that whole side of things is still pretty new to me. I was a DJ at a college radio station, but DJ'ing rock is really different from DJ'ing house and electronic music. I remember those first six months was a lot of just learning how to do this thing, and what kind of music to play. We were just basically throwing this party with no goal in mind other than to have a party and maybe meet people, who might be into the kind of music that we liked, whether it was electronic or indie-rock.
---