Shock Treatment
Studio Theatre's 2ndStage Reinvents ''Rocky Horror''
(Page 3 of 4)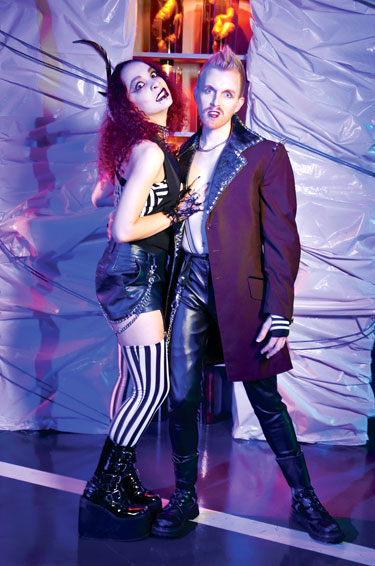 The Rocky Horror Show at Studio Theatre
(Photo by Julian Vankim)
Among those changes: a deeper exploration of Brad's homosexuality, awakened by Frank in an admittedly amusing sequence that alludes to the film and then takes things much further. Let's just say a rather surprising sex toy comes into play and leave it at that.
"Brad has strong homosexual experiences and he doesn't necessarily hate them," says Tim Rogan, who plays the oddly earnest Brad, who, along with his unnaturally perky fiancée, Janet (Jessica Thorne), undergoes a profound life-change after spending a night at Frank N. Furter's castle. "Whether he wants to follow those feelings or reject them is something we really wanted to explore." The point is driven home, rather seductively, during Brad's solo number, "Once in a While," a song few are familiar with, as it was cut from the film.
The production's ace in the hole is, without doubt, Sarah Marshall, who takes on the dual role of the Narrator and Dr. Scott. Marshall is clearly having the time of her life here, bringing her treasured timing to both parts, evoking big, significant laughs where lesser actors might evoke crickets. Asked if she had worries about taking on her iconic roles – especially Charles Gray's deliciously dry, judgmental narrator -- Marshall simply grins: "It's not iconic to my mind. It's not iconic to me."
As for the audience participation, the production is going with the flow.
"We're not encouraging it, but we're not discouraging it," says Baker. "We're trying to let it happen if it happens and deal with it." Both he and Paul point out that there is no throwing of rice or squirting of water allowed, as it proves a hazard to the actors onstage. Still, on opening night, last Sunday, July 14, there was no audience interaction. Everyone was too caught up in the sheer nylon fishnet fun.
---