Hillwood's High Life
New exhibit offers insights into Hillwood Estate's working class, who lived nearly as well as its glamorous owner
In October, curator and historian Estella Chung will give a lecture titled ''D.C.'s Downton Abbey in a Mad Men Era.''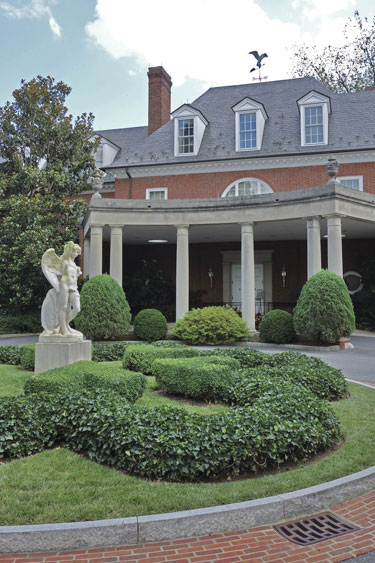 Hillwood Estate Museum and Gardens
(Photo by Todd Franson)
Of course the talk is about -- and occurs at -- Marjorie Merriweather Post's Hillwood Estate, nestled in the leafy hills of upper Northwest D.C. off Rock Creek Park.
''When you think of 'servant stories,' you often think of the turn of the century,'' explains Hillwood's Chung, ''but [Post] was able to carry on that tradition into the Mad Men era. In the Age of Aquarius, she was able to have a Gilded Age lifestyle.''
''But she was very much of the time,'' Chung is quick to add. This was no Upstairs, Downstairs type of life. ''Her staff lived above her, so it'd be 'upstairs, upstairs,''' she quips. In researching a book on the subject, Chung uncovered other ways in which mid-century life at Hillwood -- as well as Post's properties Camp Topridge in upstate New York and Mar-a-Lago in Florida -- differed from so many other mansions where servants would often slavishly cater to an estate owner's every whim. The outgoing, glamorous Post, who inherited her family's Postum Cereal Company, which is now part of Kraft Inc., ran her estate very much like a business -- specifically a hotel, welcoming people from all walks of life, all the time -- with an extensive organizational chart and an unbroken chain of command. Until her death in 1973, Post employed nearly 300 people at any given time over her three estates, and her ''staff'' -- never to be called servants -- were a diverse lot from places as far flung as Poland, Cuba and Norway, as well as the U.S.
---