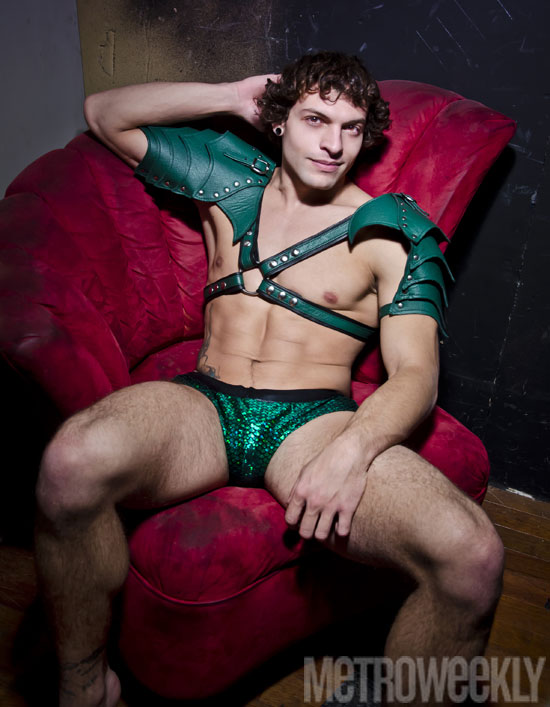 Christian Lezzil
(Photo by Julian Vankim)
''You can always join the circus.''
Christian Lezzil is in many respects your typical 23-year-old, still plotting exactly what he wants to do with his life. But when people joke he could always fall back on Ringling Bros., Lezzil ripostes, ''I've done that already. I was a balloon artist [in high school] and I worked in the great circus of a strip club.''
Chances are, you remember if you ever caught Lezzil at Secrets, where he performed over the past year. ''When I started stripping,'' he says, ''I thought, well, I'm not really happy standing here just accepting money. It's an opportunity for me to enact all of these bizarre [performance] fantasies I've ever had.'' His chief inspiration was hair-metal bands, such as Kiss, ''the ones who make a spectacle of themselves.'' Lezzil's performances weren't ''sexual, short of me being naked.'' And they sometimes ended in the splits a la David Lee Roth from Van Halen's ''Jump'' video. In fact, the multi-tattooed Lezzil's first piece of body ink, seared on his ankle at age 17, is that exact image. ''I always identified with David Lee Roth,'' Lezzil says. ''He's been kind of my guardian angel for a while.''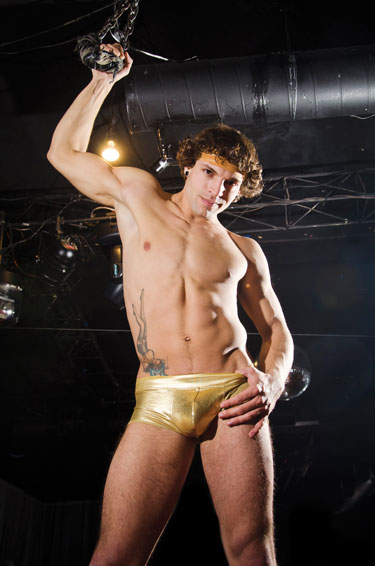 Coverboy: Christian
(Photo by Julian Vankim)
Lezzil wasn't a natural stripper. For one thing the man born Eddie Generazio in Yorktown, Va., near Williamsburg, calls himself an intense introvert. ''I didn't like all the attention sometimes,'' he says about dancing naked. ''I don't see myself as too attractive, so I couldn't revel in it.''
Lezzil's biggest claim to fame while growing up was being part of an ''experimental rock band,'' one that truly experimented with genre and performance. ''We were the weirdest guys in high school,'' Lezzil says of his bandmates in Black Clover. A singer and drummer, Lezzil was every bit as focused on making a spectacle of himself then as now. In addition to playing instruments, ''We would put on puppet shows, with Care Bears and whatnot.'' The ''whatnot'' including balloons. ''It was just a real mess. We got a big kick out of it.'' The band recently regrouped and will release a new album on Amazon this month with the winking title We Used to Have a Band. Lezzil says he's unsure if they'll tour in support -- with or without puppets and balloons.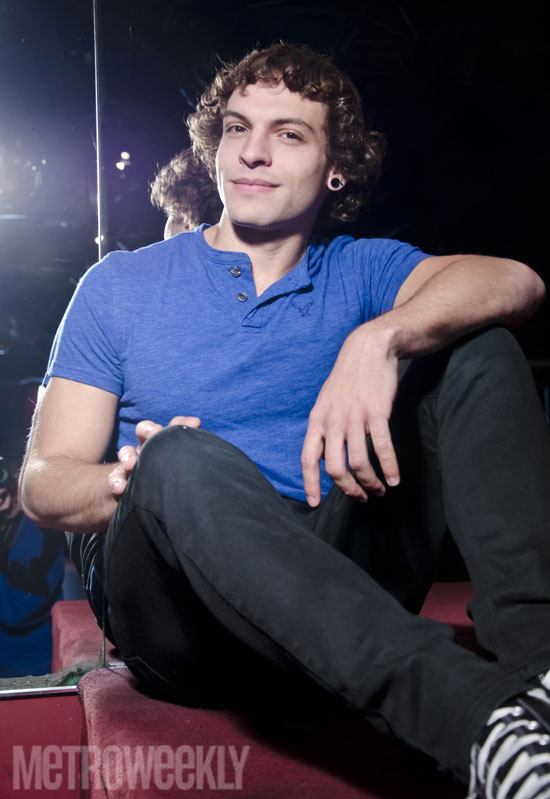 Coverboy: Christian
(Photo by Julian Vankim)
Lezzil's parents long ago made peace with the fact that both their children, including a daughter who's a photographer, are ''really sentimental children who enjoy finding beauty in life.'' He reasons his parents tell themselves, ''Well, he's not a physicist. And he wants to be a poet. And well, he's stripping now. He's just a weirdo. We'll just let him be a weirdo.''
Yes, his parents know about his stripping. ''I wear everything on my sleeve,'' he says. He's also embraced the ''weirdo'' term. He's currently in the editing phase of a book recounting his days as a stripper with the working title, I'm A Weird Guy Now: Christian Lezzil's Guide to Stripping. Lezzil considers writing his true calling. ''I've always wanted to be a writer,'' he says. ''I've always written in my journal to publish it.'' It's no wonder, then, that he's working toward his master's degree in literature at George Mason University.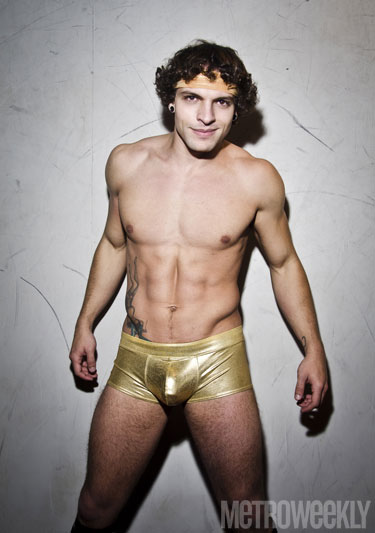 Coverboy: Christian
(Photo by Julian Vankim)
Lezzil's book on stripping is very much informed by his classes in feminist theory and gender studies at Mason. The focus is more sober than erotic -- more on the logistical and sociological sides of stripping than the sexual. ''I do touch on my sexual misadventures,'' he explains, ''but not in a way that titillates. I kind of place it in a light that's repulsive. It's like dragging a club rat out into the pale, hungover morning.''
In any case, Lezzil's so-called sexual misadventures include both male and female participants. ''[Secrets] is a gay club, so we're all engaging in some sort of gay act,'' he laughs. More specifically, when asked how he identifies, Lezzil says, ''I used to tell people I was bi. I found it a really exhausting title because it leaves opportunity for every schmo to come into your life and move you. But honestly, when it comes down to it, I don't really see gender at all. … I wouldn't feel comfortable identifying one way or the other. I think 'pansexual' is the term, but I don't know if I agree with that either.''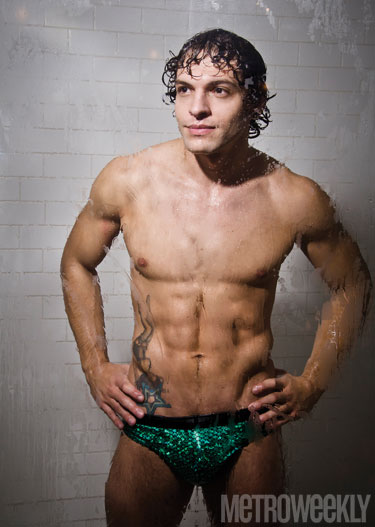 Coverboy: Christian
(Photo by Julian Vankim)
For now, Lezzil isn't really ready to be moved romantically, much less domestically. ''I've always been running from a domestic life,'' he says, ''because I've always been traveling and I've always been doing weird things, like picking up stripper jobs.'' Lezzil, who has a pug named Gilbert back home, has also ''raised'' a ''drag daughter,'' Rumor Millz Lezzil, whom he began fostering after catching her at an amateur drag contest. ''I don't know anything about drag,'' he says. ''I just give her advice about performances and stuff like that. I'm just really proud of the way that she's taken that little bit of support that I gave her from the onset and turned it into her own career.''
''I think eventually my mind will be calmed,'' Lezzil says, ''and I'll be okay with having a normal domestic life and a real job that gives constant income. And I could have a dog that isn't at my parents' house.''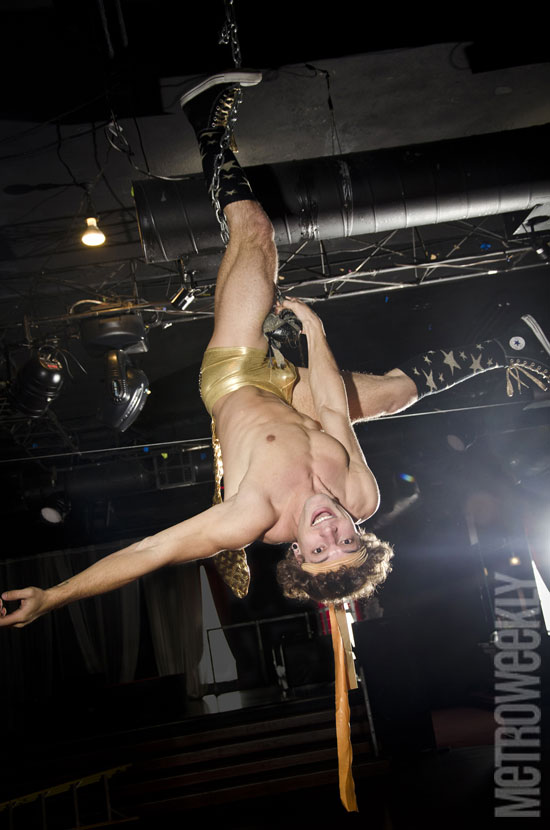 Coverboy: Christian
(Photo by Julian Vankim)