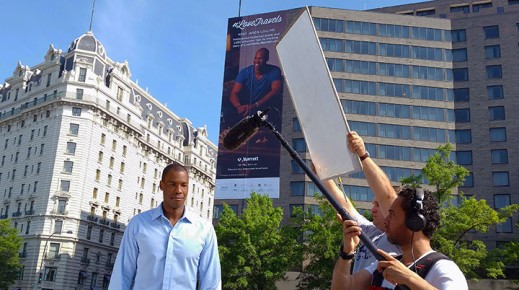 The vast majority of the hospitality industry has been a champion of LGBT rights, and, in recent years, has taken a groundbreaking lead in marketing to the gay community. Of course, when you are looking at a market segment with an estimated annual economic impact of approximately $70 billion a year in the United States and upwards of $180 billion worldwide, it should come as no surprise.
In a highly visible display of its support for and desire to attract LGBT travelers, Marriott International launched this week #LoveTravels, a campaign designed to convey the company's commitment to make everyone feel comfortable being who they are, everywhere they travel. 
"We are committed to ensuring that all of our guests feel comfortable at all of our hotels and are proud to stay with Marriott.  LoveTravels is a universal theme we believe is shared by all cultures and communities and truly represents our company's philosophy and values," said Kristine Friend, Marriott's senior director of segment marketing.  
As part of the #LoveTravels campaign,  giant images are wrapping five Marriott-affiliated hotels in Washington, D.C. In addition, there are a series of print ads in LGBT media, an online portrait gallery and display ads in cities throughout the U.S.  A key element of the campaign are portraits of Jason Collins, professional basketball player; Geena Rocero, fashion model and social advocate; and Talisha Padgett-Matthews, a Marriott associate, and others.
"To help tell Marriott's #LoveTravels story, I produced an aesthetic for [Collins], [Rocero] and our other models that is relatable, authentic and shows them at ease with who they are and comfortable expressing their love," said Braden Summers, the campaign's photographer. 
Today, Collins helped officially reveal his portrait that wraps the side of the JW Marriott near the White House and adjacent to the site of the Capital Pride street festival that will take place on Sunday, June 8. Marriott is the lead sponsor this year of Capital Pride.   
Another major hotel company, Hilton Hotels and Resorts is also a sponsor of Capital Pride.  It recently announced that is refreshing its Hilton.com/GoOut website to "feature LGBT tastemakers sharing travel experiences, tips and unique content."
Marriott and Hilton both received perfect 100 ratings on the Human Rights Campaign's 2014 Corporate Equality Index.