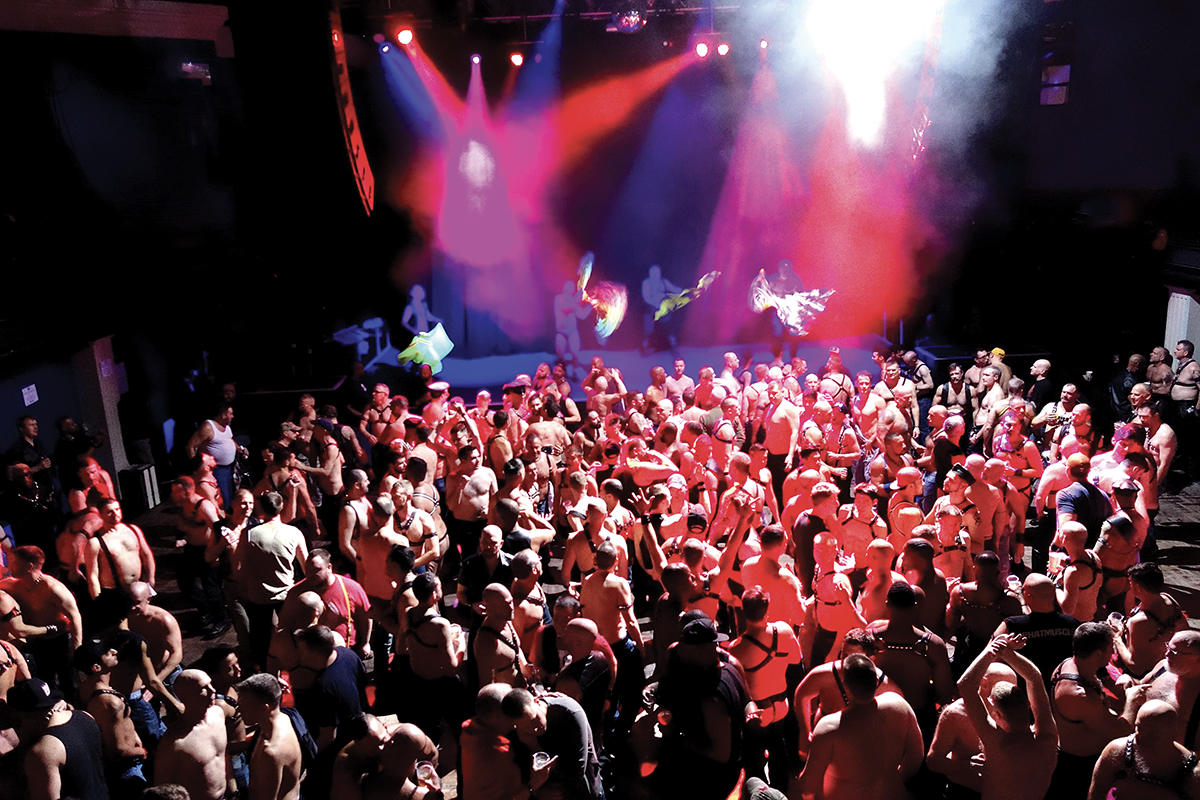 Prior to the pandemic, Jesus Quispe, who goes simply by "Q," had become known around gay D.C. as the man behind La Fantasy, through which he produced popular monthly LGBTQ dance parties at different venues in the city.
As it happens, Q had laid the party-planning groundwork years before La Fantasy became a reality. The New Jersey native first started making waves after moving to D.C. a little over a decade ago.
Among an ever-growing group of friends, he became known for lavish house parties. He was the host with the most extravagant house — a large, multi-floor penthouse, perched on the edge of Columbia Heights with expansive rooftop views of downtown.
"We had DJs, we had bartenders in jockstraps and thongs for Pride and for my birthday, and for just any regular weekend when I was bored and wanted to throw a party," Q recalls. He even hosted a few queens from RuPaul's Drag Race, "at that time when they were not that famous."
Eventually, this pre-La Fantasy dream turned into something of a nightmare. "People were getting out of hand," Q says. "My partner at that time got tired of it. He was like, 'You need to stop. They're destroying our house.'"
It wasn't only his ex.
"Oh my god, the cops were called. I got threatened by city officials. It was a nightmare after a while." So Q reformed his ways by switching to officially sanctioned parties thrown at nightclubs through La Fantasy Productions, saving himself and sparing his house. "I still live there," he says. "It has been fully renovated. There are no more parties there, I can reassure you."
In 2019, roughly three years after launching La Fantasy, Q joined forces with two other local powerhouse LGBTQ event producers to embark on a new course of action — pursuing a collaborative approach, rather than sticking to the strictly competitive path of previous generations.
"My biggest thing was we were dividing the community and friends," the 39-year-old says. "We can't throw a party the same weekend where people have to choose. It's not fair because, of course, all these parties cost a lot of money, which people don't understand." And those costs add up on both sides.
"We are partygoers ourselves. And I hate when I'm texting all my friends, 'Where are you guys going?' And they're going a different direction and I'm going to a different party, and it's like, 'I wish [independent promoters] coordinated this a little bit better.' Because now you're spending double the money and you're going back-and-forth to two different parties trying to be with all your friends."
So the trio of Q, Dougie Meyer of Avalon Saturdays, and Zach Nalbone of DC Takeover joined forces, producing as a team. They were under no illusion the partnership, branded Kinetic Presents, would be a success. They weren't even initially convinced it would work out at all.
"We really didn't know where this was going to go and we were very skeptical," says Q. "Once COVID hit and everything, it was just very hard to come back in nightlife." But the pandemic confirmed the value of the partnership, something that has been especially borne out by Kinetic's successful collaboration with Capital Pride over the past two years, including 2021's tentative, modified return to an in-person affair.
Nowadays, "every time partygoers see 'Kinetic Presents,' it is three brands pretty much under that umbrella," Q says, adding that the partnership "has been wonderful. It has been very easy to work with the guys. We share the same energy. And I'm the clown out of the group, so I'm always joking and creating drama just to kind of [put them] at ease because they're always so stressed out. But it has been such a wonderful partnership. I consider them two my brothers."
Kinetic's success with Capital Pride paved the way for working with the Centaur Motorcycle Club, the organization that produces Mid-Atlantic Leather Weekend. Kinetic first teamed up with the Centaurs last year, although they ended up canceling all but the Thursday night Kick-Off party due to the rising spread of COVID-Omicron at the time.
Unlike last year, this year's Kinetic MAL lineup includes the official Sunday night closing dance heretofore organized in-house by the Centaurs and previously known as the Reaction Dance. This year marks the first time the Centaurs have tapped an outside entity to produce the party.
Rechristened discoVERS XL, the official MAL closing party, set for Sunday, Jan. 15, moves from Shaw's 9:30 Club to the spacious downtown venue Ultrabar (911 F St. NW), a short, free shuttle ride from the Hyatt Regency on Capitol Hill, MAL's host hotel. Plans are for "a night of jubilant disco and house music" as spun by gay circuit legend DJ Abel along with rising disco and house DJ Alexis Tucci, plus the promise of "special performances throughout the night."
Although Kinetic is a for-profit entity, they will honor tradition by donating proceeds from the party to the Centaurs to further disperse among designated nonprofits. It's the same arrangement that Kinetic has with Capital Pride, proceeds of which raised over $10,000, according to Q.
"Every night we're giving partygoers a different type or taste of music for them to be entertained," Q says of their MAL lineup. It all begins Thursday, Jan. 12, with the uniform-encouraged BOOTCAMP at downtown's Soundcheck (1420 K St. NW).
"Get geared up and show how you're willing to get down," reads a tagline from the party, featuring performances by Diego Barros, an OnlyFans top entertainer, along with DJs J Warren and Conner Curnick.
Friday, Jan. 13, ushers in UNCUT XL, spanning all three rooms of Bliss Nightclub (2122 24th Pl. NE), which Q says can hold up to 2,000 people. With music by DJs Alex Acosta and Onyx, Q expects "more of a sexy, provocative party with playrooms to help get you started" and where partygoers can "unleash your most intimate fantasies."
The weekend's biggest party is on Saturday, Jan. 14, with up to 3,000 people expected at Echostage (2135 Queens Chapel Rd. NE). KINK's Main Event will feature music by international DJs GSP and Ben Bakson along with "guest dominatrix" Alyssa Edwards from RuPaul's Drag Race, with partygoers asked to don their best gear and fetish-wear. "We're going to have different types of fetish acts on stage and different shows to keep partygoers entertained through the night," Q says.
Q is thrilled by the prospect of helping the Centaurs entice thousands of leather and fetish enthusiasts in the LGBTQ community from all over the country to "come back to D.C."
"After all the things that happened during COVID," he says, "it's good for the restaurants, for the small businesses, for the mom-and-pop shops that are all around D.C. I think it's giving back in different directions. Overall, it's a win-win for everyone."
Kinetic's Official MAL Events are Thursday, Jan. 12, through Sunday, Jan. 15.
A limited number of Kinetic KINK Weekend Passes are still available as of press time for $179 each plus tax and fees, or $249 plus tax and fees for a VIP Weekend Pass with express entry into all four events plus access to VIP areas, bars, and bathrooms at select venues.
If not sold out, tickets for individual events are $15 to $25 for Thursday's BOOTCAMP, $80 to $105 for Friday's UNCUT XL, $50 to $65 for Saturday's KINK's Main Event, and $45 to $65 for Sunday's discoVERS XL.
For more information, visit www.kineticpresents.com.