Gay Pride. It's a phrase bandied about with a fair amount of frequency. Our public ents herald it, our activist organizations embody it, and yet as individuals it's an ideology that rarely seems to impact our day to day lives. For most of us, focusing on pride takes a backseat to busy jobs and schedules. For Robert York, focusing on pride is a busy job in itself.
"Why not?" York replies when asked why he took on a second year as director of the Whitman-Walker Capital Pride program. "Having the opportunity is something that has been very meaningful to me. I enjoy what I do."
York's tendency for understatement downplays the responsibilities that seem insurmountably heaped upon Pride's director. Synthesizing the efforts of Pride volunteers, community organizations, city officials, corporate sponsors and myriad others is a year-round endeavor which, with the festival's magnitude and shifting components, seems prone to fiasco. Yet Pride has come together on target twenty-five times, rain or shine. York says the twenty-sixth won't fail to impress.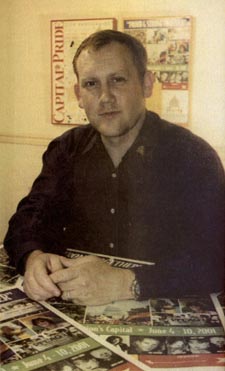 Robert York
"I think we're actually going to see a larger crowd this year," he says. "Last year there was the Millennium March and Equality Rocks. Capital Pride came six weeks after those [events] and people were kind of feeling like, 'I've shown my pride, and now I'm a little tired."
York's confidence is buttressed by the buzz in his office, which is fielding a noticeable increase in phone calls and inquiries from last year. And in contrast to past years when there were no community organizations directly involved with Pride's planning, this year there are five: Brother Help Thyself, Gay and Lesbian Alliance Against Defamation (GLAAD), the Human Rights Campaign, the National Gay and Lesbian Task Force (NGLTF) and (HRC)PFLAG-DC.
"My feeling is that you can't really present an event for the community if you don't have community organizations and leaders discussing what they would like to happen," says York.
The result of incorporating these groups into the event's preparation is a more diverse Pride, which will feature several different focuses this year. Areas devoted to health, family, advocacy and the arts will complement the street festival and the main stage performances.
A lineup of high-profile international per- ' formers is one aspect of Pride not present this year, due to an ebb in cash flow and a compressed budget.
Despite this, York says Sunday's festival will have all the luster of a Pride accessorized with music industry superstars. "I think people come because they want to celebrate," he surmises. "Frankly, there were things we paid for last year that we didn't need to. Whatever amount of money that we have, we're going to be able to make it work." The financial streamlining did not, however, include moving the festival from its pricey location on Pennsylvania Avenue.
"There was talk at one point of moving to another location. To be honest, though, after the shift in the administration at the White House, we thought it was important for us to be right in front of our leaders and in front of the Capitol."
Adding a political tinge to an otherwise celebratory event is perhaps inevitable in Washington, where your waitress is an aspiring Senator and homeless people tote placards plugging political agendas. A spokesman for President Bush announced last week that the administration would not recognize Gay Pride Month, making the event's high visibility all the more essential this year. Still, York doesn't consider Capital Pride to be any more political than the Pride festivals of other cities.
"I was in San Francisco last year and it's pretty much the same format, but theirs is on a much larger scale." He explains. "The backing they have in San Francisco is incredible. Their TV stations film the entire parade, and they have two newspapers giving them incredible support. That's something I'd like to see here someday."
While D.C 's gay population may not rival the Bay Area's, it has more support than the gay communities of many other cities, Aside from the isolated scatterings of religious fringe protesters, Capital Pride is an event that is met with much respect and cooperation from the District's residents and businesses.
"We're one of the very few events, and certainly the largest one-day event, in D.C. that has never had any trouble," says York. "With the reputation of the event and the reputations of [co-sponsors] One In Ten and Whitman-Walker, I think everyone has a good feeling about it."
This year's Pride comes in the wake of a gargantuan march that flooded through Washington only one year ago, a march that prompted many to question the purpose and the value of staging these massive events. For York, the value they possess is for the individual more than the crowd at large.
"Pride is the one day of the year where people know they can go to a central location and see pie who are just like them," he says. "For someone who's just coming out, being able to go down the for your first gay event and look around and know that you're not alone is incredibly powerful."
For Robert York, as the man at the helm, value of Capital Pride is the event itself.
"To me, just knowing that we have a community that supports Capital Pride and supports what do makes me proud of the job that I do every day. Because it's not just a one-day event for me. Aft working with people on a day-to-day basis, to co to this event is just incredible. And when we sit up there as the Capital Pride team and look across the crowd, it's an incredible feeling."
The Capital Pride Parade and festival will place this Sunday, June 10, 2001.