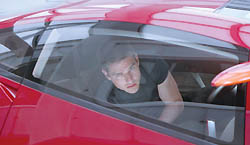 Future shock: Cruise
Slowly but surely, Steven Spielberg has been growing up. Benevolent, wide-eyed wonderments that characterized such early works as Close Encounters of the Third Kind and E.T. have been cast aside. Gone are the roaring, breathless action-packed thrill-rides that defined such works as Jurassic Park and the Indiana Jones trilogy. For years now, Spielberg has tried to dissolve the sugar coating that has clung to his movies like cotton candy to Velcro. He has succeeded in a few cases — the deeply personal Schindler's List, the flawed yet brutally realistic Saving Private Ryan — but most of his movies still feel conflicted, as though he were torn between entertaining his audiences and unsettling them.
He came close to complete success last summer with A.I. — Artificial Intelligence, a film project he'd inherited from Stanley Kubrick. Unable to fully tap into Kubrick's grandly misanthropic state of mind, Spielberg copped out and tacked on a twenty-minute closer that left audiences feeling as though they'd been force-fed NutraSweet. Spielberg approached the edge of bleak cynicism, and then scampered away, afraid to take the full plunge.
With Minority Report, he not only dives headfirst into a bleak vortex, but in the process whips up a spectacular piece of sci-fi entertainment. The movie is almost defiantly non-Spielbergian in its approach — and yet the mark of this master craftsman is apparent throughout. Spielberg fully sets aside his overwhelmingly optimistic nature and lets the cynicism achieve full rolling boil.
Based on a 1956 short story by Philip K. Dick, Minority Report is set in Washington, D.C., in the year 2054. For six years, an experimental justice unit known as Pre-Crime has been hard at work eliminating murder from the nation's capital. The elite unit relies on a trio of water-bound psychic beings known as Pre-Cogs, who predict the occurrence of a murder BEFORE it takes place. It's then up to the unit, led by Chief Paul Anderton (Tom Cruise), to extrapolate clues from the projected holographic visions of the Pre-Cogs, reach the scene of the intended crime in time, and thereby prevent the murder from occurring. Sometimes, as the movie's spectacularly tense opening sequence reveals, the margin is too close for comfort. The perpetrators are stored away in tubes, presumably for life. Though this seems a waste of energy. Why not just execute them?
The obvious question, of course, is one of choice. If you know you're going to commit a murder — especially if that murder is not of the premeditated variety — do you have the ability to prevent it on your own? Or is your fate pre-determined?
Anderton gets to answer that very question when the Pre-Cogs envision him killing a man whom he's never met. With only thirty-six hours, Anderton goes on the run to prove his innocence, setting in motion a chain of events that will lead him directly to an encounter with a fate that may or may not play out as predicted by the Pre-Cogs.
There are several elements at work in Minority Report, and all mesh with stunning clarity. At its most basic, the film is a whodunit — or, more to the point, a will-he-or-won't-he-do-it? Like Blade Runner, another film based on Dick's writings, a fifties crime noir sensibility permeates the narrative. Minority Report is also a cautionary tale about basic civil liberties, and a nerve-jangling suspense film with action sequences so precisely executed, they evoke memories of the best moments from the Indiana Jones trilogy. Interlaced throughout is a rather morbid sense of humor, one more Hitchcockian or Lynchian than Spielbergian in tone. At a few junctures, the director allows the movie to get downright nauseating, as in a sequence involving Anderton and a "back-alley" physician (the creepily sleazy Peter Stomare).
Despite the special effects and the whiz-bang momentum, Minority Report is defined by a striking sense of restraint. Even longtime Spielberg collaborator John Williams tones down his usual musical bombast and instead channels the buzzing, swirling violin scores of legendary composer Bernard Herrmann.
Cruise's performance is a cut above his usual jaw-grinding stuff. He portrays Anderton as a flawed hero — drug-addicted and profoundly depressed, he nightly grieves the loss of his young son six years ago in an incident he blames himself for. Anderton finds himself confronting the demons of his past while hunting down the key to his future.
The supporting cast includes Max Von Sydow as the Pre-Crime's grandfatherly director; Colin Farrell as a surly FBI agent intent on taking the unit over; Samantha Morton as the most gifted of the Pre-Cogs; and Lois Smith as an eccentric geneticist who offers Anderton one possible key to his salvation.
Like all Spielberg films, Minority Report goes on a little longer than it should. But the movie is a huge leap forward for the director, who moves once and for all into the world of adult movie making, in the process creating a gripping, absorbing, thinking-person's entertainment with full-throttle mass appeal.