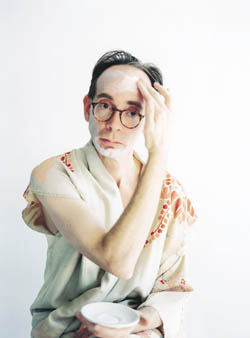 Arto Lindsay
Hey Jill, tell me if you've ever experienced this problem. You want to be an edgy, artsy hipster, but no matter how you try, you just can't get into all of those cryptic, experimental sound-art bands.
I certainly have experienced that, Tom. I've got the black turtleneck, the clove cigarettes and the brooding look, but that music is just so esoteric. Is there anything I can do?
Amazingly, Jill, there is! I just heard this album called Invoke (Righteous Babe) by Arto Lindsay, and I'm just positive that it's the answer to your problem, a problem that affects millions of unhip Americans.
Tell me more, Tom!
It's just fantastic. What Lindsay does is combine the innovation and experimentalism of artists like Brian Eno and David Byrne with the groovy, Latin-inflected jazz sensibility of popular bands like Yo La Tengo.
So you're telling me that it's experimentally fringe AND catchy pop music? That's just what I've been looking for!
Well look no further, my friend. You know, I once had the same problem you did, forcing myself to trudge through the murky noise of Boards of Canada and Aphex Twin. I hid my Dave Matthews Band albums, worried that I'd be outed as a fan of mainstream music. That was before I discovered Arto Lindsay. Now I'm indie-rock AND able to listen to catchy tunes!
But isn't it possible that this guy is just jumping on the bandwagon to be popular?
No, and that's the best part! Lindsay grew up in Brazil during the eclectic Tropicalia movement in the 1960s. He's worked with such legends as Ryuichi Sakamoto and Allen Ginsberg. He was a fixture of the No Wave scene in New York, influencing such well-known bands as Sonic Youth. So if anyone challenges your claim to hipness, you can be totally confident of your source.
But is he multilayered? I understand that layers are very in at the moment.
Jill, you're in luck. Not only is Lindsay multilayered, he's polyrhythmic! Take the song "Over/Run" for example. Notice the lopsided downbeat, the bubbling, cyclical keyboard arrangements. Hear Lindsay's vocals melt right into the instrumentation. It's very Kraftwerkian, and yet contains enough hooks to keep even the most pop-addicted MTV viewer entertained.
Okay, what's the catch, Tom?
No catch! Invoke, however, does present one or two tracks that are particularly experimental, tracks that many pop fans may want to skip over, such as the static-laden "In The City That Reads." It juxtaposes rough, turbulent guitar riffs with soothing, monk-like "ohm-ing." But these tracks are integral. They give the album credibility within the world of abstract music.
And as the owner of the disc, that credibility will, in turn, rub off onto me!
Now you're getting the idea, Jill! And because the album was released by Ani DiFranco's record label, it will retain its indie gleam no matter how popular it becomes!
Where can I find this fantastic product, Tom?
It's at your local record store right now!
Well then that's where I'm headed. I won't wait to purchase my new Arto Lindsay CD, and neither should anyone else!
Right you are, Jill. And remember, music can't make you cool, but it can make people think you're cool. Until next time, take care.