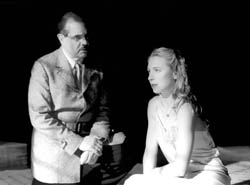 The Diaries
Does it take all the bells and whistles Arena Stage gave Tom Walker last season to make a new John Strand play worth your time?
Not quite. But judging from the disappointing premiere of Strand's The Diaries at Signature Theatre, they sure can't hurt.
Signature's in-the-round staging of The Diaries, a work commissioned by the company, makes you feel like you're sitting in a scaled-down Fichandler, where Arena mounted Tom Walker. The déjà  vu effect girds the inevitable comparisons between Tom Walker, a flight of Colonial American fancy, and The Diaries, a humanization of a Nazi officer, and The Diaries does not emerge in as favorable a light.
It's not that Strand isn't thinking on a grand scale. He's certainly undertaken enough thematic and narrative content to cover several sweeping epics. But that could very well be the problem: Perhaps he's bitten off more than he can chew.
A fictional tale drawing inspiration from a real-life German figure, The Diaries focuses on Steve Alton (Edward Gero), an accomplished entomologist whose passion for insects is matched only by his passion for writing. We meet the elderly Alton in 1978 at a lifetime achievement award ceremony, where a student (Daniel Frith) confronts him about newly discovered information — in the form of one of Alton's diaries — indicating his complicity in Nazi atrocities as the German officer Stefan Altsanger stationed in Occupied Paris. On the spot, rather implausibly since he's never acknowledged his past to anyone, Alton defends himself extensively in the form of flashbacks in which diary entries are recited and reenacted to illustrate discrepancies between reality and the written word.
With the entire play literally hinging on the initial interaction between Alton and the student, The Diaries would benefit significantly from an exploration of their relationship, or at least a more thorough fleshing out of the student's motivations. But Strand uses the meeting only as a framing device, and director PJ Paparelli allows Frith's already thinly-drawn character to take on bombastic, melodramatic proportions that aren't flattering to the work.
Frith, like fellow supporting cast members Julia Coffey and Sybill Lines, must morph into a variety of characters in Alton's colorful life, and the actors certainly exhibit talent, appeal and versatility at many points in the play. Coffey does particularly fine work with the plaintive sensuality she brings to a young French woman who romances Alton/Altsanger in return for documents to help friends escape the grasp of Nazi terror.
It's the rarely offstage Gero, of course, who's in the linchpin position that determines if this initial production of The Diaries can hold itself together. Gero's thoughtful, if sedate-at-times, performance does in fact command your attention strongly enough to guide you through the density of Strand's undertaking. And Paparelli comes through at most of the key dramatic moments with inventive staging choices that both meet and flatter the play's challenges. 
Through July 14th at Signature Theatre, 3806 South Four Mile Run Drive in Arlington. Tickets are $24 to $30. Call 703-218-6500. Visit www.sig-online.org.