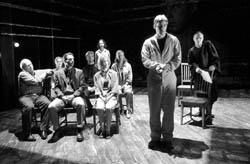 Multiple personalities: The Laramie Project cast. (Photo by Stan Barouh)
Theatre as documentary. As investigation. As memorial. As catharsis. As condemnation. As redemption.
That The Laramie Project can function at all these levels — and more — when so many of its theatrical peers would dare not attempt a fraction of such goals, makes it worthy of acclaim and attention. Add to that its subject matter, the impact of gay University of Wyoming student Matthew Shepard's brutal 1998 murder on his Laramie community, and you have a (hopefully) one-of-a-kind creation that you owe yourself, and countless victims of societal hate, to see and respond to.
Does all this mean that just any old production of the play, written by Moisés Kaufman and members of New York's Tectonic Theater Project, will do? Of course not, and Olney Theatre Center gives The Laramie Project its theatrical due with an earnest, solid production powered by a tight, nine-actor ensemble up to the formidable challenge of Kaufman and Tectonic's ambitious undertaking.
The play's creators traveled to Wyoming six times after Shepard's murder to interview more than two hundred Laramie residents. Portions of those interviews, word for unembellished word, form the textual basis of the play, which also retains elements of the Tectonic actor-writers' experience as outsiders wary of their reception in an insular community both shell-shocked by a barrage of unfavorable media portrayals and quite possibly prone to a repeat occurrence of hate crime at any given moment.
Therefore, Olney's The Laramie Project ensemble — Anne Bowles, Helen Hedman, Jesse Hooker, Christopher Lane, Susan Lynskey, Paul Morella, Alan Wade, Harry A. Winter and MaryBeth Wise — must portray Laramie residents as well as the New Yorkers in the process of interviewing them. It may sound a bit complicated for the audience, but director Jim Petosa skillfully shapes the performances so that every character is easily recognizable — so much so that the repeated introductions of people who speak more intermittently actually become superfluous.
The playwrights, not surprisingly, found in Laramie a vast array of personalities and perspectives that both confirm and challenge stereotypes. And they distilled the incredibly potent essence of remarkable human stories that emerged in the wake of the Shepard murder. Three actors — Hooker, Lane and Wise — stand out with especially strong performances in particularly demanding roles.
Wise lends a quiet, constant bravery to the headstrong police officer who arrives on the isolated prairie scene of Shepard's attack and finds herself horrified by the bloody devastation and determined to assist the mortally injured young man, regardless of what turns out to be an all-too-real risk of HIV exposure from the victim's blood. Lane moves effortlessly and convincingly between the roles of the Sheriff, whose sense of outrage overcomes a prevailing anti-gay sentiment that surrounds him; the conservative hospital administrator-turned-media-spokesman emotionally devastated by the unexpected commonality between the Shepard family and his own; and a local gay resident doubtful of Wyoming's capacity to take real steps toward protecting all of its citizens.
But it's Hooker who does the most breathtaking work with the brilliantly drawn parallels between two college students — the bicyclist who discovered Shepard and a theatre major who confronts and overcomes the homophobia ingrained in him by his family — and the two drifting, college-age native sons of Laramie, Aaron McKinney and Russell Henderson, who abducted, robbed and beat Shepard. Hooker has an essential everyman quality combined with the talent required to project it onto his roles so that you're faced with a heartbreaking, chilling reminder of the countless young men throughout America for whom seemingly ordinary circumstance dictates the difference between murder and benevolence. 
Absent, of course, is Matthew Shepard's voice, silenced as it was on a Wyoming prairie fence. That lifts The Laramie Project to still another level of illumination — that of the different kind of tragedy when a multifaceted human being must be recalled primarily not for his actions in life, but his martyrdom in violent death. And though the play starts out to explore a question — "How could this happen here?" — it ends, as theatre at its best often does, with an equally pressing question — "Will this happen again?" — that remains up to each and every one of us to answer.
Through August 11th at Olney Theatre Center, 2001 Olney-Sandy Spring Road in Olney, Md. Tickets are $15 to $35. Call 301-924-3400. Visit www.olneytheatre.org.